Posted on
Fri, Nov 2, 2012 : 3:33 p.m.
Charlee Bear Products recalls specific lots of Protein Crunch Bars because of Salmonella risk
By Lorrie Shaw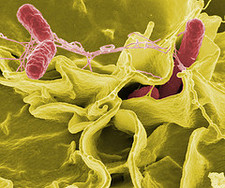 According to Charlee Bear Products of Madison, Wisc. they are recalling some of their Charlee Bear Protein Crunch Bars because of possible Salmonella health risk.
The potential for contamination was discovered after a finished product sample of Protein Crunch Bars tested positive for Salmonella.
The recalled products were distributed nationwide during September and October 2012.
Salmonella, also referred to as salmonellosis, causes digestive problems, and dogs will typically present with fever, diarrhea, vomiting and weakness. Other symptoms can occur.
The pathogen can affect other animals — not just the dogs who consume the treats. There is risk to humans from handling contaminated pet products. People handling dry pet foods and/or treats can become infected with salmonella, especially if they have not thoroughly washed their hands after having contact with the treats or any surfaces exposed to any contaminated product.
Affected products, lot numbers and 'best by' dates include:
Charlee Bear Protein Crunch Bars Chicken Recipe with Carrots
, which was sold in 5.5-ounce packages with the UPC Code 8710890000
Lot number 19812; Best by date: 07-16-2015
Lot number 19912; Best by date: 07-17-2015
Lot number 20012; Best by date: 07-18-2015
Lot number 20212; Best by date: 07-20-2015
Charlee Bear Protein Crunch Bars Chicken Recipe with Sweet Potatoes also sold in 5.5-ounce packages bearing the UPC Code 8710890001
Lot number 20112; Best by date: 07-19-2015
Consumers who purchased the products are urged to return them to the place of purchase for a full refund. Consumers with questions should visit the company website, email info@charleebear.com or call 1-800-396-8893 for more information.
Click here to read the press release from the company.
You can count on AnnArbor.com to have up-to-date information on pet product related recalls available. Click here to search our archives of previous recalls.
Lorrie Shaw leads the pets section for AnnArbor.com and owner of Professional Pet Sitting. Shoot her an email, contact her at 734-904-7279 or follow her adventures on Twitter.