Posted on
Sat, Jul 21, 2012 : 6 a.m.
Studies indicate that children's health is boosted by having pets - but are there other benefits as well?
By Lorrie Shaw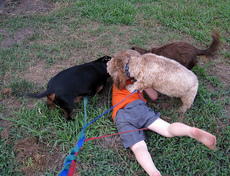 flickr photo by Tobyotter
I am quite sure that the first word out of my mouth was "dog".
In talking with readers, clients and friends, the topic is usually related to pets and one thing that bears a common thread most often are the memories of pets from our respective childhoods.
Most of us were drawn to the furry, feathered and even slimy creatures in our lives when we were young, like moths to a flame.
One individual told me that, as a very young child, if she'd disappeared on her family's farm, she could be found gripping her pony close and tightly.
During a meet-and-greet with a client with two Great Danes last year she noted, "We had Great Danes when I was growing up..."
My Dad worked with canines professionally when I was a toddler, and they frequented our home. One of my most cherished photos is of me as a tot, petting the German Shepherd alongside of me.
The expression on my face says it all, and still does.
Those memories resonate and I think help connect us to those that we keep company with now.
There's been a lot of chatter in recent days about the benefits of sharing life with pets, no matter what demographic that you're in.
One of the most talked about facets of growing up with pets is the health benefits. For example, experts that conducted a study that was published in the journal Pediatrics note that overall, the more contact that a child has with a dog was associated with fewer health problems in general. That leads researchers to believe that early contact with an animal may mature the immune system in infancy, helping toddlers stave off disease.
In fact, kids in this demographic were 30 percent less likely to experience coughs, ear infections and symptoms such as stuffiness, runny nose, sneezing and congestion.
Those born in homes with canines were 44 percent less likely to develop ear infections, something that is so common in children.
Something that was particularly interesting was a recent query that was posed to children in the United Kingdom. Kids were asked to rate the impact of pets in their lives.
The outcome might have not been all that surprising coming from the mouths of babes, but I think it's quite telling. Published studies and papers support what kids say.
Half of the children surveyed said that owning a pet made them happier, while a third said that it made them more calm. Other noted that they felt more intelligent because
of the animal and even more self-confident. Another interesting aspect: Those same kids noted that the pets had a positive impact on their homework.
Other observations include that children learn positive attributes like empathy by having pets, and they have better social skills, including having an easier time learning to compromise with others, because of their daily exposure to pets.
As a parent (or a grown child of a family that had pets), can you vouch for these benefits? Connect with us and take the poll below and leave your comments.
Lorrie Shaw leads the pets section for AnnArbor.com. Connect with her on Google + or e-mail her directly.