Posted on
Sun, Jan 30, 2011 : 4 p.m.
Companion Animal Trusts: What will happen to your pets if they outlive you?
By Lorrie Shaw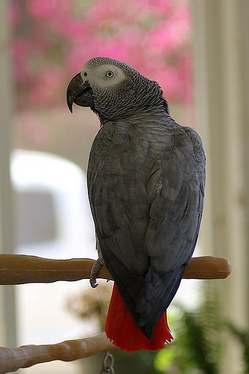 flickr photo courtesy of Rebecca O'Connor
Most of us go through our lives with our pets without a care in the world. There is that one little thing that haunts the back of most pet owners' minds: the eventual demise of our pets. Historically, we live longer than our pets do, and although it's heart-wrenching to think about, it might actually be a good thing from a financial and from a point of view as a
caregiver
. Being a caregiver to a pet is a very different scenario than that of having a child. Humans, by and large, are able to grow up and start their own lives and take care of themselves; pets do not have that option.
Companion animals
are dependent on their humans to care for them, from start to finish — even if they haven't finished living.
I started thinking about this more seriously a awhile back when a client, who has an exotic bird, noted that there was an arrangement set up for the beloved pet in the event of my client's death. This was not an indulgent act, by any means. This bird will definitely outlive his family, and he is very attached to them. It's almost assured that there will come a day when everyone in the family will expire before he does.
My client thought ahead and set up an arrangement and a network of people who are familiar with said bird, and willing to take over if the need arises.
Granted, not a lot of us dog and cat owners think about that, and it's probably due to the fact that we think that we'll outlive them — or will we? In some cases, no.
The topic of trusts and arrangements set up in the event that one's pet outlives them isn't too far fetched. Leona Helmsley set up a sizeable trust for her Maltese, named Trouble. The Wall Street Journal ran a piece in late-December detailing the world's richest pets: Gunther IV, who inherited his wealth from his father, Gunther III — who is also a German shepherd — and is estimated to be $372 million. Oprah's brood will reportedly split $30 million. And there's more.
Although you might think that this sort of arrangement is only for the wealthy, it's actually more common than you would think for the rest of us average Joes. I know several people who have set up an arrangement to have their pets cared for — financially, and with a willing caregiver — in the event that something happens to them. In fact, years ago, I had a friend legally will their Golden Retriever to me. They didn't have children, and dog was fairly young, and well, anything could happen. The couple did travel together extensively, and one spouse wasn't in good health. Sadly, the dog has long since passed, but considering the kind of commitment that they had to their pet, it made sense.
Commonly, horse owners and those with parrots insist on setting up a trust for their pets care, due to the pets' life expectancy.
Trusts are a way to go, and fortunately, the state of Michigan is one of them. The summary from Michigan State University College of Law's Animal Legal and Historical Center follows:
This Michigan statute provides that a trust for the care of a designated domestic or pet animal is valid (these trusts follow the terms for non-charitable trusts and thus, can be of a duration of up to 21 years). The trust terminates when no living animal is covered by the trust. Extrinsic evidence is admissible to prove the transferor's intent and the court may reduce the amount of the property transferred if it determines that that amount substantially exceeds the amount required for the intended use.

Other states — 44 of them — recognize Companion Animal Trust Laws. Click here to see if your state has enacted such a law.
The American Society for the Prevention of Cruelty to Animals addresses the issue on their website and explains further what is entailed in a pet trust and how it's carried out.
Although it is a daunting, even sad prospect to consider, leaving your pets behind, but it's a situation that could avail itself. Do you have a trust, or some other sort of agreement planned out for your pet?
Lorrie Shaw is a regular contributor to AnnArbor.com's pet section and lives with her family in Dexter Township. She wrote the popular blog post "An indoor cat's life can be enhanced by ensuring six basic needs" and can be reached via email. Follow her pet adventures as a pet sitter and dog walker on Twitter.