Posted on
Sat, Apr 10, 2010 : 11:45 a.m.
Considering pet adoption? Proceed with care, please.
By Lorrie Shaw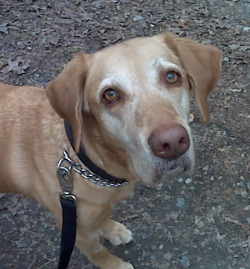 Lorrie Shaw / Contributor
Love, love, love this time of year. There's such a sense of anticipation. I think it's the opportunity of favorable weather this time of year that helps. Animals are natural part of this… they remind us of that zeal, constantly! Many make the move to get a pet, sometimes for the first time.
It is certainly easy to get caught up in all of that and making a decision perhaps a little too quickly. I frequently hear about folks making the choice to get a pet as a gift for a someone. I cringe when I hear this.
Now, I do know that there are very responsible, well meaning individuals out there who enter this process the right way, and everything works out great because they were properly prepared. But, sadly, there are people who traipse over to a pet store to pick out a cute puppy as well as a leash, food/water bowls, a bed, a few treats and a bag of food.
With very little real preparation or forethought, they bring everything home, they surprise their kids with a puppy, and everything is great - for about a week. By this point, Mom and Dad are fed up with the kids' natural tendency to not pitch in, the accidents, the chewing, etc.
On top of this, after the newness has worn off and everyone goes back to their lives with work, school, and dance class twice a week, sports practice three times a week - puppy has to sit home alone. No one realized how much time and care a puppy needs to become a well-adjusted member of the household. Nor does anyone have the time or patience to carry out the consistent job of age appropriate training and housebreaking.
Puppy then grows into an unmanageable adolescent dog that isn't so cute anymore. Dog is given away to someone else because family just can't manage the responsibility anymore. Hopefully the new family will have the ability to give the proper attention that the dog needs. Hopefully. Can you imagine how confusing and sad it is for that dog to be shifted from one home to another like that?
Having an animal is an extraordinary experience. But there are no pets that are "low maintenance" - period.
Welcoming a new pet into your family takes a lot of consideration and research to prepare for, regardless of the animal's age or breed.
All breeds of cats and dogs are different, from their dietary needs and behavioral attributes to health issues. Did you know that some breeds of cat actually like to play fetch like dogs do? Some dogs are more prone to cardiac issues, liver dysfunction or disorders like 'mega-esophagus' (and need to be fed a specialized diet of slurried food, by hand, so that they don't choke to death.)
Thinking about a new puppy? It's really like having a new baby in the house. Seriously. When our dog Gretchen came home at 5 1/2 weeks, it was like bringing home an infant. Because of her age, she wasn't anywhere near being housebroken - that meant frequent potty breaks. In the middle of the day while I was out working... yep, I had to get home in between appointments to get her outside to give her exercise and so that she could do her business. It also meant waking up at night to do the same. The house had to be puppy-proofed, completely! Despite the fact that Gretchen was being crate trained, one ear and an eye needed to be kept on her to be sure she wasn't getting into anything. Having a puppy meant a lot of things. Life was different.
Is everyone in the house 'on-board' with the decision?
It is a considerable financial obligation, too - over the life of the animal. Do you have the financial means to pay for the food? You need to get your pets spayed or neutered, and that costs money too. What about vet visits every six to 12 months for vaccines, check-ups, medicine… what about more serious medical issues? (We've personal experience recently in the area of serious medical problems that required surgery.)
The life expectancy of a pet is important to consider as well. Depending on the breed, dogs can live anywhere from 7 to 16 + years. Ditto for cats, but their life expectancy can be upwards of 20 years. (Yes, really.) Ditto for exotic birds, but it's more like 30 to 70+ years.
What is your lifestyle like? What is your life going to look like in seven or eight years?
Your living situation: What is it like now? Do you own, rent… will that change?
What is your schedule like? How many hours do you work? Do you have a solid support system set in place as a backup to provide care, like a reliable relative, friend or a pet sitter?
Are you one who has a tendency to have a more laid back, sedentary lifestyle? Are you a runner? Somewhere in between? Some breeds of dog absolutely require a good vigorous run outside everyday to keep their behavior in check. They need lots of playtime. Yes, true playaholics!
Do you like to travel? Can you take a pet with you to the places that you typically like to go?
Are you married, single… do you have kids - have you had kids yet? What will life be like once kids go off to college? The people in your life (or who will be in your life) should be huge deciding factor with regard to your consideration of a pet.
Pets aren't accessories: They're living, breathing beings who require serious consideration at all stages of their life.
If and when you decide that the time is right for you to welcome a pet into your home permanently, please think about a pet that needs re-homing. Nearly 11 years ago, I welcomed our Silver, a domestic short hair from an acquaintance who had a habit of getting pets and then needing to get rid of them because of their perpetually unstable living situations.
A year later, I adopted Gretchen - a St. Bernard/Shepherd mix from a private owner at the age of 5 1/2 weeks after learning that the owner of the mother dog was going to have the last two pups of the litter destroyed in three days. (The other pup was adopted by someone else, thankfully.) Bruiser, our yellow lab mix was adopted many years ago after finding him on Pet finder - a family who could no longer care for him needed to give him away. Our family is very blessed to have these pets in our life, and they count on us.
There are so many pets in need of homes of all ages. Opportunities await at the Humane Society of Huron Valley, or Petfinder.
You might even consider adopting a pet who is elderly. You could make a huge difference in their final years, and they have a lot to give in return.
For us, pet ownership just rocks. We couldn't imagine life any other way, but at times, as with anything else, it's challenging. If you think it's for you or if you're thinking about adding to your brood, just consider how the family dynamic will change. Your serious consideration will pay off exponentially.
Following her passion, Lorrie Shaw is owner of Professional Pet Sitting and lives in Dexter Township with her family that includes a small brood of pets. As a contributor in the Pets section for AnnArbor.com, she's always striving to provide interesting, fresh information on pet related topics. A voracious foodie, in her free moments she can be found huddled in her kitchen standing over a hot stove and listening to any good music. She can be contacted by e-mail.