Posted on
Tue, Oct 30, 2012 : 6 a.m.
Meet the Ann Arbor.com pet of the week: Maizey, an adorable 9-month-old Chihuahua mix who loves people
By Deb Kern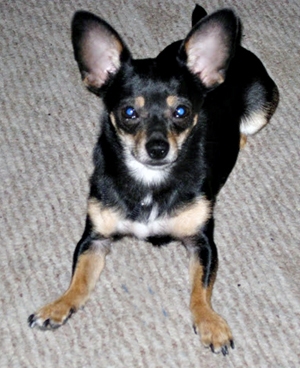 Maizey is a 9-month-old black and tan
Chihuahua
mix. She was purchased as a puppy and then given to a variety of family members who did not have time for her. She was finally relinquished to the
Humane Society of Huron Valley
.
She is a sweet and affectionate puppy who loves to cuddle, play and nap under warm blankets. She is initially timid and shy around strangers, and needs a little time to become comfortable in new situations, but when she feels at home, she's happy and friendly. Her foster family is helping her feel safe and loved, and she is blossoming into a wonderful little companion.
Maziey learns new rules quickly and is very obedient. She doesn't like the cold, and she can be easily frightened. She's used to having her family around and would prefer to live in a house where her owners are home frequently, and where she isn't left alone for long periods of time. Otherwise, she'd be a very good family member for an owner looking for a small, quiet dog to share the couch with. Maziey gets along well with smaller dogs but is afraid of large dogs and would not be comfortable around them on a permanent basis.
Maizey is currently enjoying her foster home and is waiting for you to meet her! Adopting from foster is easy. Just email adoptions@hshv.org or call 734-662-5585 ext. 111 to arrange a play date!
HSHV is open daily at 11 a.m. for adoptions. Please stop by and visit Maizey.
All pets available for adoption are spayed/neutered, up-to-date on their vaccinations, medically and behaviorally evaluated, and they have a microchip ID all included in their low adoption fee. Please make adoption your first option.
The Humane Society of Huron Valley, located in Ann Arbor, was awarded the "Best Large Animal Shelter in Michigan" by the Michigan Pet Fund Alliance, for the second time in a row this year, for saving the most lives. HSHV is an independent 501(c)(3) nonprofit organization and relies solely on donations from businesses and individuals to support our community programs.
HSHV is not affiliated with the Michigan Humane Society or any other humane organization. The mission of HSHV is to promote responsible and compassionate care of all animals in our community.
Deb Kern is the marketing director at HSHV.