Pets:

Meet the Ann Arbor.com Adoptable Pet of the Week: Dudley

Posted on Tue, Jun 5, 2012 : 5:57 a.m.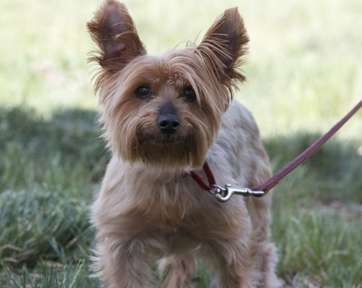 Dudley is a very handsome, and super sweet 12-year-old Silky Terrier. Dudley's family moved to a place that did not allow dogs so sadly, this older gentleman is now at the shelter waiting for a new home.
Dudley is house trained, affectionate and a great little walker. Pick up his leash and his tail starts wagging! You can often see Dudley hanging out behind the adoption desk at the Humane Society of Huron Valley just lounging in his bed. He does not bark much at all, is always happy to see people and would make an amazing companion for someone who wants an older dog. Like many dogs his age and breed, he is starting to develop some cataracts but Dudley is adjusting to that very well.
If the fact that Dudley is the cutest and sweetest dog you will ever see is not a good enough reason for you to adopt him, please consider these reasons:
He does not need to be trained and won't make a mess
He will settle in quickly to your home (all he needs is a warm doggie bed, food, water, few treats, and most of all YOU!)
What you see is what you get — Dudley's personality (which is fantastic by the way) is set and won't change
He enjoys the easy life and needs minimal exercise
You can be his hero when you adopt this senior dog — he will love you for it.
Every pet available for adoption is spayed/neutered, up-to-date on their vaccinations, medically and behaviorally evaluated, and they have a microchip ID all included in their low adoption fee. Please make adoption your first option.
The Humane Society of Huron Valley, located in Ann Arbor, was awarded the "Best Large Animal Shelter in Michigan" by the Michigan Pet Fund Alliance, for the second time in a row this year, for saving the most lives. HSHV is an independent 501(c)(3) nonprofit organization and relies solely on donations from businesses and individuals to support our community programs.
HSHV is not affiliated with the Michigan Humane Society or any other humane organization. The mission of HSHV is to promote responsible and compassionate care of all animals in our community.