Pets:

Meet the Ann Arbor.com adoptable pet of the week: Cuddles

Posted on Tue, May 15, 2012 : 10:51 a.m.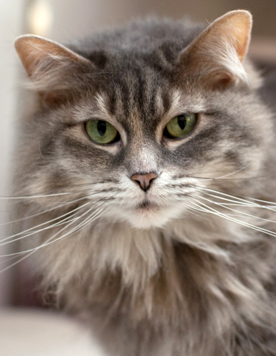 Photo by Mark Quint
This beautiful, medium-haired tabby/dilute calico mix cat named Cuddles, is an affectionate girl. She is 7 years young, front-declawed and looking for a family where she is the only feline for you to dote on. At this juncture in her life, she deserves to be a treasured pet and wants nothing more than a permanent home of her own.
Sadly, this is Cuddles' third visit to the Humane Society of Huron Valley. Her last home had another cat, and their personalities did not gel. The house before that, where she had lived for four years, had a child that developed allergies. We know there is a family that would love a cuddle bug, laid back, affectionate lap cat. Could it be your family?
Cuddles will need to be an indoor only cat because she is front-declawed; she will also need brushing to keep her amazingly soft fur tangle-free.
It is easy to adopt Cuddles. Because we have so many adult cats that need homes, HSHV offers something we call "Pick Your Cat, Pick Your Price." As long as you promise to care for Cuddles you can decide what you are willing to donate to adopt her. We do ask for at least $15 to help offset some of the expense of her care at HSHV. Our normal adopt fee is $45.
During every Saturday in May to celebrate "Cinco De MEOW," all adult cats are only $15 all day.
Every pet available for adoption is spayed/neutered, up-to-date on their vaccinations, medically and behaviorally evaluated, and they have a microchip ID all included in their low adoption fee. Please make adoption your first option.
The Humane Society of Huron Valley, located in Ann Arbor, was awarded the "Best Large Animal Shelter in Michigan" by the Michigan Pet Fund Alliance, for the second time in a row this year, for saving the most lives. HSHV is an independent 501(c)(3) nonprofit organization and relies solely on donations from businesses and individuals to support our community programs.
HSHV is not affiliated with the Michigan Humane Society or any other humane organization. The mission of HSHV is to promote responsible and compassionate care of all animals in our community.