Posted on
Fri, Mar 2, 2012 : 5:57 a.m.
Creating order, building trust are key in dog training
By Julia Levitt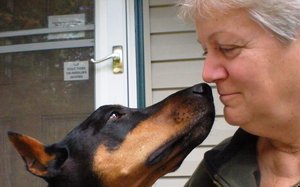 Photo courtesy of Mary Mazzeri
It's spring, it's spring!
Julia, what are you saying? Haven't you looked out the window? It's anything but springlike. As soon as January is over, I know spring is not far behind.
What a better way to think spring than to start looking at our dog's training program? What are we going to do to challenge our dogs in pleasant weather?
Mary Mazzeri of Care Dog Training has some helpful suggestions. Mazzeri is a trainer's teacher, having personally mentored dozens of successful dog trainers who now own their own dog training businesses across the country. Mazzeri instructs and communicates effectively by breaking down concepts and exercises into understandable components for both dog and handler.
To begin with, "The dog and owner have some degree of mutual love and respect." Love and respect from a dog's perspective is different from a human's perspective. As humans, we think giving a lot of petting to a dog is pure affection.
But who thinks of having the dog laying quietly at your side as affection? Dogs do! Dogs are content and relaxed — try it. As humans we must "do" something to show affection. With dogs, being close to their humans is often enough. Mazzeri contends that an owner being "overindulgent" with a dog can create a "demanding tyrant or even producing a dominance or aggression issues in dogs so inclined."
I have found that Mazzeri's advice also extends to dogs that suffer from separation anxiety.
When Lisa adopted her new dog, she was eager to do everything right. Lisa adored Jake, but we often forget that, when we get a new dog, it takes some adjusting on everyone's part to have a new family member.
Lisa noticed Jake's anxiety when she left to go to work — he would start digging to get out of his crate. When Lisa got home, the doors of the crate were bent, and Jake was drooling.
Jake also followed Lisa around the house. Everywhere Lisa went, Jake followed. It is at this point in Jake's introduction to the household that Lisa and I started using some basic commands, allowing Jake to develop confidence in a new environment.
The "down," "place" and "come" commands were very helpful tools for Lisa to use. When Lisa directed Jake to "place," Jake would lay down on his favorite bed. Jake kept Lisa in sight, but he also became comfortable on his own bed.
I noticed Lisa would allow Jake to jump on any piece of furniture where she was sitting. Again, the very useful term "place" helped Lisa be with Jake but allowed him his own spot to rest.
While we chatted, Lisa would constantly pet Jake. So what's wrong with that? For a dog new to a household, that is exhibiting signs of anxiety. Constantly petting the dog might comfort us, but it promotes anxiety in an already anxious dog.
"Effective dog training," says Mazzeri, "takes into account the temperaments of the dog and its pack and helps them achieve a workable rhythm in their lifestyles.
"Part of our job as trainers," Mazzeri continues, "is to be able to distinguish between an easily triggered flighty dog, a balanced dog and an easily set off hair-trigger aggressive dog."
Mazzeri has a very good solution for owners and dogs such as Lisa and Jake. "A basic program for 'nothing in life is free' can be initiated with all types of dogs… the objective of creating a orderly expectation and a trust relationship with the dog is essentially the same for all dogs out of balance. By having the owner controlling everything that the dog considers of value — food, water, bed, toys, use of time, use of space — the owner becomes more important to the distrustful disconnected, insecure, independent or rambunctious dog."
First, when Lisa comes in the door and sees Jake, she should show no excessive emotion. A calm approach works best.
Lisa walks in the door, removes her coat and then lets Jake out of his crate. When Lisa sits down, Jake may rest at her side or go to his "place," but Lisa does not need to continually pet him. Affection is given by having the dog near.
Lastly mounds of toys are not at Jake's disposal. When Lisa wants to get Jake to play, a special toy is given — only a favorite squeaky toy is used. The same is true for a bone Jake likes to chew. Lisa takes it out, and later it gets put away. Lisa said that Jake often ignored his toys before she started doing this.
Dogs are pack animals, and the drive from the dog is about relationship. Mazzeri contends, "This is what causes dogs to 'care' about what the owners think about them, how they feel and interact with them. The dog seeks approval because the approval signals acceptance in to the pack. This type of rapport creates stability-predictability and security for the dog." Just ask Lisa and Jake.
Thank you Mary Mazzeri for allowing me to excerpt parts of your article "The Intimate Dance: The Training Relationship" from the IACP Journal.
In my next blog I will be interviewing trainer Brenda Aloff. If you have any special concerns you would like to see Brenda address, please write me and I will be sure have your questions and Brenda's answers in my next blog.
Julia Levitt is the founder of In Harmony Dog Training (www.inharmonydogtraining.com) in Ann Arbor. She can be reached at julia@inharmonydogtraining.com or at 734-645-4707. Julia provides individual training for dogs and their owners, and also conducts dog training classes at Ann Arbor Animal Hospital.