Posted on
Tue, Jul 23, 2013 : 6 a.m.
Not clinging to a dog's 'troubled' past can help them be more adaptable and resilient
By Lorrie Shaw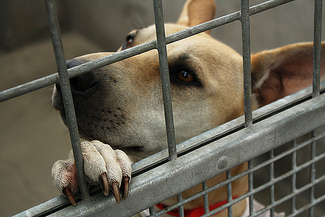 flickr photo by spotreporting
Sharing life with a
dog
can be one of the most rewarding of experiences. It can be one of the most challenging as well, especially if you have a furry friend that, as many pet owners put it, "has issues".
In my experience, for as many dogs that find life difficult to cope with, just as many adapt well to changes, challenges and difficulties. That's a testament in most cases to their having access to good socialization early in life. Of course, other factors can influence a dog's ability to cope in certain situations, like being a product of a puppy mill or purchased from a pet store.
One remark that I hear often from pet owners during our initial telephone conversation or on our meet and greet is, "My dog, he has issues. He..."
It's not surprising: often dogs who have a tendency to be nervous or shy, a challenge to train or are fearful don't do well in boarding, and having a pet sitter come to them makes for a more favorable outcome all around.
Having your humans go away for a few days can make for a stressful time if you are a pet who falls in any of those categories, but day-to-day life can be equally daunting, especially if a behavioral assessment has been done poorly.
Assessments are often done by shelter or rescue workers, breeders, trainers — even doggie day care staff — but are they always uniform, objective, accurate? I'm not convinced.
Some of those who have the responsibility of performing an assessments may interject their personal assertions, which is hardly objective. And it may be hard to pick up on certain cues that a canine is demonstrating. Humans can easily misjudge a behavior, too.
Those of us that share life with a pet who has difficulties are often the biggest offenders when it comes to gauging our dog's behavior, though we may know them better than anyone.
Why?
Our attachment to them.
We often attach (no, superglue) something to our pets: their history. It's a nasty habit that we have, not being able to let go of the past.
I often hear, "My dog was a stray as a puppy; found in a field, skinny as could be …" or "…He was in a shelter for six months."
Worse yet, the history of an animal may not be known. Then all of the worse-case-scenarios tend to be securely affixed.
Hanging on to these facts or mysteries can lead to a Golem-like outcome, if you will, of what a canine can work through, manage or completely hurdle. We can certainly use the past as a guide, but seeing what is happening now is more important than anything.
It's easy enough to see that a dog is having trouble in a situation, but really understanding how functional an individual dog is in a given circumstance here and now, not a year ago — where the dog's strengths lie when navigating through a challenging situation, and where the dog is e shaky (which can change and evolve) — can guide you on how to create an environment where the dog can thrive, and he can further unfold optimally.
That said, it's important to not raise the bar too high so that an animal isn't able to gain confidence and coping skills.
Being mindful of what is impacting a dog positively and negatively — right here, right now — is crucial for the long-term, as is choosing the right behaviorist or trainer, should professional help be sought.
Suzanne Clothier's eloquent, thoughtful piece, "If only that hadn't happened, this dog would be fine," details some excellent food for thought when it comes to assessing a dog's behavior and ways that we are doing it wrong. Click here to read more.
Lorrie Shaw leads the pets section for AnnArbor.com and is owner of Professional Pet Sitting. Shoot her an email, contact her at 734-904-7279 or follow her adventures on Twitter.