Posted on
Thu, Jun 14, 2012 : 6 a.m.
Dog crates and the 'place' command are useful in preventing canine shenanigans
By Julia Levitt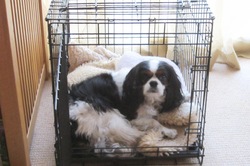 Julia Levitt | AnnArbor.comContributor
We came home from going out to dinner one evening and found an empty plastic bag on the floor. It had a hole in it.
Beisha, our Portuguese Water Dog, was lying on her side like a beached whale. I couldn't remember what I had in the bag…until — I couldn't believe it — five dinner rolls from Zingerman's. Apparently "you really can taste the difference."
What would have been helpful in this case would have been to have the dog in her crate while we were gone. It is important to use the proper tools to make life with your dog more enjoyable for both of you. We will discuss use of the crate but also a very important verbal tool — "place."
I could have avoided another kitchen drama by teaching the simple command "place" — especially when I was ready to bake chicken and found Beisha the wonder dog reaching the counter on her hind legs and delicately taking a piece of chicken from the baking dish.
As you can see, I am very big on using the right tools for the right job. Using the simple little word "place" is so handy for so many situations.
If you don't want your dog underfoot in the kitchen or jumping on a guest or going after the repairman, then "place" is a dandy little word to have in your toolbox. The word "place" and situation go hand in hand. Place refers to a specific spot in a specific area.
For example, when I am working in the kitchen I have my dog go to "place" — a dog bed outside of the kitchen — where he can see me but is not underfoot. The word "place" does not refer to a bed in another room but a bed that is visible to the dog — so the dog can see you.
When I say "place," the dog is trained to go to a specific spot in a specific area. This keeps the dog from getting underfoot — it can also be used as a calming device. Before the dog is fed, using the word "place" gives the dog a spot to calmly wait for its meal on its place. The word I use to release the dog from its place is okay.
Another great tool to have is a simple crate — kennel, den, house — space. Whatever you choose to call it, when properly introduced to a crate, the dog finds it very comforting. Dogs are den animals. As Ali Brown says in her book "Scaredy Dog!": "The denning instinct is just that, an instinct. So we humans as benevolent leaders for our pets, give our dogs access to crates to give them security."
Brown mentions some helpful ideas on crate placement in the home. "I encourage my students to crate their dogs in their bedrooms. Dogs are social animals. Forcing them to sleep alone may increase their anxiety. Sometimes it is best to have two crates; one for the bedroom and one in a room that is more centrally located relative to the bulk of the activity in the house. You don't want your dog isolated just as much as you don't want him in the middle of the living room."
Success in training a dog does not depend on the strictness of punishment or the person who yells the loudest. Dog training is quiet consistency. Like learning anything else new — it is important to find the right tools for the task and to find help in using them correctly.
Julia Levitt is the founder of In Harmony Dog Training (www.inharmonydogtraining.com) in Ann Arbor. She can be reached at julia@inharmonydogtraining.com or at 734-645-4707. Julia provides individual training for dogs and their owners, and also conducts dog training classes at Ann Arbor Animal Hospital.