Posted on
Thu, Nov 17, 2011 : 5:30 a.m.
Funny pet-related mishaps are common, and dogs are usually at the center of them
By Lorrie Shaw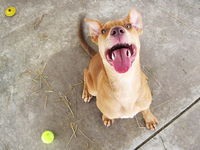 flickr photo by sleepyneko
There is one thing that any pet owner can tell you: life is never boring with them.
Dogs
in particular provide their families with laughter and joy just by being themselves.
Whether they are puppies or adult dogs, what happens from day to day can prove to be a bit unpredictable. With a canine's desire to be at our side, our lives can sometimes converge in a way that provides us humans fodder for stories for years to come.
Mishaps are an all-to-common occurrence.
I can recall many experiences with our dogs that still bring a smile, but one in particular still makes me giggle at the thought.
One summer day 12 years ago, when Gretchen was just an 8-month-old pup, we had just finished prepping a very large portion of our back property so that it could be an actual lawn: cleaning it up, grading the soil, settling the sprinklers and, of course, putting down grass seed.
Turning on the sprinklers to complete things, my next choice turned out to be very unwise.
Forgetting how much of an adolescent my young pup was, despite her usual good behavior, I left her outside while I went indoors to clean up after the chore.
Hearing a bunch gleeful barking, I happened to look out of the window — only to see my lively pooch dashing back and forth between the sprinklers, all the while getting fresh mud and grass seed embedded in every inch of her fur. (Not to mention the rather large paw prints that had been embedded into the soggy soil!)
How had I neglected to think how enticing a set of sprinklers might be to a dog who had never seen them before?
Watch this video montage of funny pet mishaps and see if it conjures up any memories of your pet's antics.
Lorrie Shaw is lead pets blogger for AnnArbor.com. Connect with her on Google+ or email her directly.