Posted on
Thu, Oct 21, 2010 : 9:19 a.m.
Testing dog gear and toys finds some hits, some misses
By onemoreminute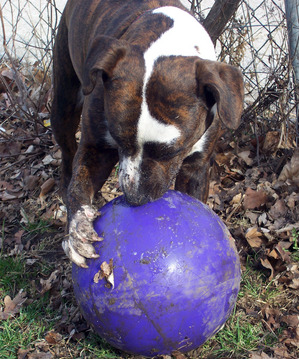 Amy Samida | Contributor
I'm not a shoe addict. Maybe, if my feet weren't reminiscent of banana boats, I would be. Instead, I'm a dog stuff addict. I love buying things for my dogs. Collars and leads, toys and training gear, anything for my dogs that looks cool, useful and well-made, I'll buy.
Unfortunately it doesn't always work out. A lot of things get used a few times and then sit somewhere, collecting dust, or end up in the trash. Some, those golden few, are treasured. Well-functioning and useful, or chewed and tossed around, they last and last. So here are a few of my more recent purchases, including some winners and some losers. Maybe they'll help you spend your money on things your dog will love rather than leaving them to collect dust in the corner.
One big purchase early this year was the Drinkwell Big-Dog Pet Fountain. At about $70 it was a fairly pricy investment but I loved the idea of my dogs having fresh water 24 hours a day, not just until the first dog drinks out of the freshly filled bowl. I have to admit, I don't love it.
I used it for about eight months and it now sits, dry and unused, on a shelf. They also make a smaller fountain that I think I might try, but for now I've gone back to a bowl. I loved that the big dog version has a large capacity and the water is filtered. I loved that it seems utterly dependable; despite the frequent cleanings it hasn't given me a lick of trouble.
The problems with it are that it seems to need cleaning almost every day and the base is so huge that it is a bear to wash. It doesn't fit in the sink; I ended up with water all over the floor. I took to washing it in the bathtub. And, for me, the kiss of death is that the intake for the filter is just too small. What I ended up with was dirt on the bottom and, well, spit, floating around on the top. So really, it was worse than the bowl which I can easily pick up, dump, rinse, and refill in a matter of minutes. Maybe for one big dog it would be an ideal solution. For three? Not so much.
The Timberwolf Coupler leash, though, now there's a product I can get behind. And I do on a daily basis since Whimsy and Rocket share one. If you walk two dogs (well, I walk three, but Tug gets his own leash), this leash can't be beat. At 6 feet long, only the first foot is single. After that it splits into two leashes, giving each dog ample room. Most couplers give each dog a couple of feet, not enough in my opinion, for doing those things you want a little privacy for. It's a high-quality lead, comfortable to handle, and lasts forever. Any of the Timberwolf products I consider a good investment. They're one of my favorite pet product manufacturers. My dogs love their toys, particularly the gear bone and gear ship. High-quality toys are not cheap to make, but their long-lasting, dog-friendly designs make them absolutely worth the price.
For puzzle toys, you can't beat Nina Ottosson's line. They're wildly expensive, $50-$70 or more. She recently introduced a line of plastic puzzles in addition to my favorites, the wooden models. They require your dog to spin or slide their components to discover treats. And while they're beautiful to look at and incredibly durable (as long as you remember to pick them up when you're done), once your dog learns how to manipulate them, you have a very expensive toy that your dog finishes playing with in about two minutes. It's one time you'll wish your dog was a slow learner!
Kongs and Nylabones, those old stand-bys, utterly deserve their place at the top of the old-school toys list. They frequently come out with new models, such as the Kong Wobbler and Wubba, to keep things fresh. I invest lots of my dog money in these toys because they're well-made and long-lasting, and my dogs love them. The Wubba is a big favorite around here and even though they're probably the least durable of the Kong toys, I buy them again and again. It's a fabric covered Kong with tails. Great for throwing, playing tug, and chewing.
In branching out, I found a cool-looking rubber cylinder with a tennis ball inside that was supposed to bounce, roll, and give my dog hours of (supervised) fun. I'm sure the "supervised" wording is because it took about 10 minutes for Rocket, not an industrious chewer, to figure out how to get the ball out and start ripping up the cylinder. It was a $9.95 waste. 
Ditto the Choobie. I actually think this is a great toy. For one thing, it's Michigan-made. When you throw it, it whizzes across the yard on edge, lightening fast and very exciting. The problem with this toy is that it's very difficult for most dogs to pick up. Difficult to the point that they get frustrated trying and just give up, no matter how you encourage them. It's a very durable chew toy, though, and since the one I bought seems to have disappeared I'm going to go buy another one for my border collie friend. It may be just the ticket for him.
I'm always on the lookout for new dog gear. If you've found a great toy, backpack, or any other dog gear that you and your dog love, I'd love to hear about it.