Posted on
Thu, Apr 12, 2012 : 11:55 p.m.
Virbac AH recalls specific lot of heartworm preventative for dogs
By Lorrie Shaw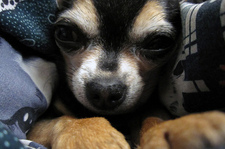 flickr photo by FALHakaFalLin
There have been plenty of recalls related to pets in recent months, and as always, we keep you informed about each one.
There is one new recall to report; however, this one is not related to pet food or treats.
Virbac Animal Health issued a voluntary recall on one of their products — a heartworm preventative — and it might affect your dog.
The company, based in Fort Worth, Texas issued the recall on a single production lot of IVERHART MAX Chewable Tablets.
Virbac, notified the Food and Drug Administration promptly, as well as their network of distributors.
The affected product is IVERHART MAX Chewable Tablets, Lot #110482 (Large, 50.1-100 pounds)
In a press release, the company said:
It is important to note that prior to releasing the identified product lot for sale and distribution, numerous tests were performed and all test results were within specifications permitting the release of the product. After release, routine product testing has determined that the ivermectin (an active ingredient) has failed to meet our required stability specifications. Consequently, some dogs dosed with the identified lot may not be fully protected against heartworm disease.

It is Virbac's goal to ensure that all dogs receive adequate protection against heartworm disease. For potentially affected dogs, veterinarians should contact Virbac Technical Services (800-338-3659 x3052) to discuss recommendations for heartworm testing procedures. If any dog receiving IVERHART MAX Tablets is found infected with heartworms, treatment can be administered and will be covered under the IVERHART product satisfaction guarantee.

Virbac regrets this isolated incident and remains committed to manufacturing quality products. Testing has confirmed that all other lots of IVERHART MAX Chewable Tablets remain potent. Only this single lot is affected by this recall. Since only the ivermectin is affected, protection against other internal parasites covered by the product is not compromised. Additionally, no heartworm-related adverse events or illnesses have been reported to-date with this lot of product.
This recall occurred in the recent wake of another issue related to heartworm disease in dogs — a shortage of heartworm treatment. Dr. Lyssa Alexander, DVM gives the specifics: click here to read about the shortage.
This is a good reminder to be sure and get your pet in for an appointment with the veterinarian to have their heartworm tests done and to refill the preventative.
To read more on the recall, click here for the company's press release.
Lorrie Shaw leads the pets section for AnnArbor.com. Catch her daily dog walking and pet sitting adventures or email her directly and subscribe to AnnArbor.com's email newsletters.