Posted on
Fri, Apr 5, 2013 : 6 a.m.
Proper etiquette helps both humans and canines enjoy their time at the dog park
By Lorrie Shaw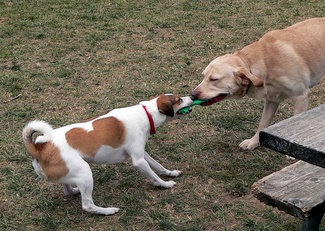 Flickr photo by Dakota Kingfisher
Although it can still be quite cold during the day, the weather seems to have turned that all-important corner and we seem to be in the home stretch to more fun days days spent outdoors without the snow.
Our canine friends seem to know that, too, judging from the behavior of the ones that I deal with on a regular basis. They are more eager to play outside and relish the opportunity to sniff as much as their noses can take now that the snow is gone.
Being outdoors is a boon for both humans and our pets, but believe it or not, it can be challenging for some families to really get outside for a good workout with their pooches. And sometimes, a leashed walk just doesn't cut it.
Some households don't have the luxury of a large yard to safely play in. And, with so many arrangements from apartment living or a condominiums that lack sufficient green space, and even homes that lack the yard to really allow a dog to get out and run like crazy, a lot of pet owners are in the same boat.
One excellent solution that has gained popularity in recent years — dog parks — fills that need.
Dog parks are large fenced-in areas where well-behaved dogs can run free to interact with their owners, other dogs, or just to be dogs. A secondary benefit of these safe, fun areas is that you can get to know others with whom you share a common interest.
Last year, I wrote about some of the issues that we all need to be aware of when it comes to dog parks, like health and behavioral considerations and how to best assert ourselves so that we can be our dog's best advocate while visiting a dog park.
A point one of the experts I had consulted for the piece made was simple: while the premise of the dog park is for your pet to go and play, engage with his canine buddies and burn off some energy, it's up to the humans to work cooperatively to make it a positive experience for all involved.
That said, the dog park experience is influenced more heavily by the human factor than anything, I think. So as pet owners, being mindful about how we're conducting ourselves is crucial. Here's some things to consider. Surely as you read this, there will be other things that come your mind. Feel free to add your ideas as a comment.
Use good resources to educate yourself on dog behavior. With all of the headway made in recent years with regard to understanding canines and what makes them tick, it's vital that those who are responsible for them are empowered to do so. With the flood of people who have jumped on the dog behavior bandwagon, it can be daunting to sort through all if the chatter. Not sure if you're getting the right information from a book, a television show or even from a self-professed local professional? Click here for resources.
Interact with the other humans at dog park. Not only is it polite to do so, but fun to get to know others who share something in common with you. Dog parks are a unique, inclusive environment and who knows - you might reassure someone who really needs to know that they're doing a good job with their pet, or gain a sage piece of advice yourself.
Put away your smartphone while spending time at the park with your dog. Your full attention is needed to watch your pet, and to observe any problems that might arise. Fences are not foolproof, injuries can happen, and it's also helpful to know who is coming in or leaving the area.
A very wise person I know made a statement a few years ago about the similarities between dog parks and cocktail parties: sure they can be fun, but they can also be a challenge to navigate. The dynamics of the group change as members come in and leave. Dogs have dog friends that they really like, while they can find other members of their species hard to take. Gauging the changes that invariably occur as dogs come and go can help keep things going smoothly, but you can only do that if you're not looking at email or texting.
Expect to get dirty and/or wet, so wear clothing and footwear that can handle the environment. It is a park, after all! Not only will your dog get themselves all over you, but there are some pooches who haven't quite mastered the skill of not jumping on people. Things happen. While you're at it, bring a towel or two to wipe down your pet before getting into your vehicle.
Lorrie Shaw leads the pets section for AnnArbor.com and owner of Professional Pet Sitting. Shoot her an email, contact her at 734-904-7279 or follow her adventures on Twitter.