Posted on
Tue, Oct 2, 2012 : 2 p.m.
Peanut butter marketed for dogs included in Salmonella recall
By Lorrie Shaw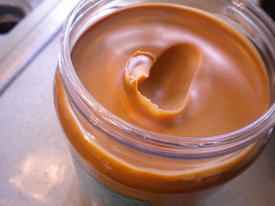 flickr photo by mrsdkrebs
On the heels of a nationwide peanut butter recall because of Salmonella, one brand of peanut butter that is formulated for dogs is being voluntarily recalled.
Sunland Inc. the manufacturer of the peanut butter, also produced the peanut butter that was recalled in September and reported here on AnnArbor.com.
Santa Monica, California-based Dog for Dog says that although no illnesses have been reported, they are recalling of all jars of its Dogsbutter as a precaution.
"While no Dogsbutter products have tested positive for salmonella, our number one focus is ensuring the health, safety and well-being of dogs," company CEO Rocky Keever said.
"We'd much rather be overly cautious. We're not knowledgeable enough in the peanut market, so we just pulled it."
Salmonella, also referred to as salmonellosis, causes digestive problems, and dogs will typically present with fever, diarrhea, vomiting and weakness. Other symptoms can occur.
Salmonella is a zoonotic disease, meaning that it can be passed to humans as well, so care needs to be taken. Hand washing is a must — even when handling dry pet food that may be contaminated with the bacteria.
Because there are more than 2,000 strains of salmonella, it's the most common cause behind pet product recalls. Very young and very old pets are most susceptible to the bacteria and suffer the effects most profoundly. The most common symptoms associated with salmonella are vomiting, diarrhea and fever. Companion animals presenting with symptoms are treated with IV fluids and antibiotics.
Products with manufacturing dates of May 1, 2012 through Sept. 24, 2012 are affected.
The product can be returned to the store where it was purchased for a full refund. Click here to read more on the company website.
You can count on AnnArbor.com to have up-to-date information on pet product related recalls available. Click here to search our archives of previous recalls.
Lorrie Shaw leads the pets section for AnnArbor.com and owner of Professional Pet Sitting. Shoot her an email, contact her at 734-904-7279 or follow her adventures on Twitter.