Posted on
Mon, Apr 8, 2013 : noon
What are the traits of a great dog trainer? Good listening skills top the list
By Julia Levitt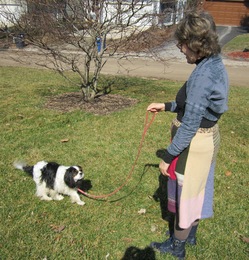 Julia Levitt | Contributor
My friend Gina and I were having one of our frequent discussions on how to recognize a great
dog trainer
. While our backgrounds are totally different — Gina apprenticed for five years with a man who taught everything from obedience to how to train guard dogs, and my learning has been largely based on concepts from Cesar Millan — we nonetheless have a very similar understanding as to what constitutes a great dog trainer.
We both agree that one of the most important qualities a dog trainer should possess is the ability to ask questions and listen.
When first evaluating a dog, it is helpful to conduct these observations when the dog and its owner are outside of their usual environment. When I assess a dog, I have the dog and owner meet in my home.
This accomplishes a few things. The first is that we are meeting in a neutral territory, so the dog does not feel the need to defend the property, and thus guarding behavior is reduced. The neutral setting also allows the owner to interact with their dog outside of the usual stresses and demands of home. Evaluating in this neutral setting allows me to observe how the dog and owner interact without resorting to their usual routine behavior.
As part of the assessment process, both Gina and I "begin at the beginning" — we both ask what happens with the dog from the moment they get up in the morning to moment they go to sleep. What is the dog's routine?
During the evaluation I often bring a "neutral" dog to the meeting to see how the visiting dog will react to a new dog's energy. What is a neutral dog? This is a dog which does not react to the instability of another dog's energy.
Oftentimes a dog's high level of energy can be misinterpreted by owners as aggression, but this high energy level can also be excitement or anxiety. My non-reactive dog — through her body language — lets me know what is going on with the visiting dog.
Dogs do not want to have anything to do with other unstable dogs. This goes back to the pack mentality. Instability is "viewed" as a weakness by other dogs. The pack cannot tolerate weakness.
Why? The pack must have strength to survive. Who does a predator go after in any pack situation? The old, the sick and the young. In other words, an animal which is unable to defend itself is a danger to the pack. It drags the pack down.
In one of my assessments, when I was introducing one dog to another, one of the dogs was crying and whining. The other dog snapped in the face of the whining dog. Not another peep was uttered. The whining dog knew the reprimand from the other dog and became calm. The crying dog was not bitten, but it got the message very clearly.
This why Cesar Millan often uses other dogs as a way to get through to certain dogs he is training. I have used this method myself. One client wanted to drag their dog into my backyard. I asked them to stand outside my gate while I got my neutral dog. I led my neutral dog into the backyard and the fearful dog followed.
Great dog trainers ask questions, and listen, and create special environments, and recognize that sometimes they have to call upon the "real" experts in dog behavior — a stable dog!
Julia Levitt is the founder of In Harmony Dog Training (www.inharmonydogtraining.com) in Ann Arbor. She can be reached at julia@inharmonydogtraining.com or at 734-645-4707. Julia provides individual training for dogs and their owners, and also conducts dog training classes at Ann Arbor Animal Hospital.