Posted on
Thu, Nov 1, 2012 : 11:30 a.m.
Findings of recent study reinforce concept that dogs respond favorably to direct, positive interaction from humans
By Lorrie Shaw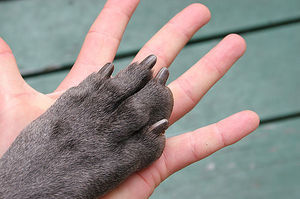 flickr photo by SuperFantastic
I often talk about the fact that
dogs
love, no — need — one-on-one attention and companionship.
Canines
are incredibly social animals, and fail to thrive when they don't get the human contact that they need.
They love eye contact, to be petted and talked to, interactive play and to be in their humans' midst.
The findings from a study that researchers from Max-Planck Institute for Evolutionary Anthropology in Leipzig, Germany back this up further.
An experiment, one that included 32 dogs, showed that canines can develop a preference for a human depending upon direct interaction.
Researchers honed in on the findings by first exposing 32 dogs (16 male and 16 female) to two similar-looking female human participants in an enclosed room for 30 seconds each, one at a time, right after the other.
One "friendly" human participant would play with the dog subject, while the other person would ignore them. Afterwards, the dog was taken out of the room and the same humans re-entered. The dog was then brought back in and allowed to freely meander around the room for 30 seconds. During this phase of the experiment, the dogs spent significantly more time in the proximity of the "friendly" experimenter.
My mantra comes to mind when considering this: spend half as much money, and twice as much time with your dog, and they'll be happier, better adjusted and more eager to be near you.
Click here to read more on the study.
Lorrie Shaw leads the pets section for AnnArbor.com. Catch her daily dog walking and pet sitting adventures or email her directly.