More Than Four Walls
Pets:

New veterinary drug that was developed in Michigan shows promise in treating bone cancer in dogs

Posted on Thu, Jul 12, 2012 : 5 p.m.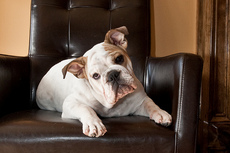 photo by flickr4jazz
Cancer is always a disheartening, scary diagnosis anytime, but when it comes to your pet, you feel especially helpless.
The disease is common in many breeds, pure bred and mixed alike.
But imagine taking your dog into the vet for a limp and leaving with the prospect of them having an illness that could easily take their life: Osteosarcoma.
Thousands of families — roughly 8,000 per year — hear that diagnosis, and in the past, the prognosis has not been favorable. Osteosarcoma, a malignant tumor that most commonly affects the limb bones, is an aggressive disease and usually spreads to other organs.
It typically affects large, fast-growing breeds including Rottweilers, Irish Wolfhounds, Great Danes, Doberman Pinschers and St. Bernards.
In most cases, amputating the affected leg is par for the course and can improve quality of life and alleviate bone pain, along with radiation. Chemotherapy is often recommended as it does increase the survival rate to an average of 10-14 months of a good quality of life.
But they are not cures.
Because of the nature of the disease, it's been difficult to address. A new development, however, in veterinary oncology may offer a brighter outlook in treating osteosarcoma.
Palladia, as you might recall from a previous piece here on AnnArbor.com has been successful in treating other types of cancer in dogs (Mast Cell Tumors), and it's been put to the test in treating osteosarcoma.
Wrigley, a 9-year-old English bulldog from Texas, was diagnosed with the disease in 2010 and given two months to a year to live. After amputation and aggressive treatment at the veterinary hospital at Texas A&M University, the dog was administered Palladia and has so far, beat the odds.
Now that his condition has stabilized, his care is overseen by Dr. Barry Schmitt of Stuebner Airline Veterinary Hospital in Texas.
"Wrigley is just absolutely phenomenal," says Schmitt.
"Every time he comes in for a check-up, we are just absolutely amazed he has done so well.
Darrell Fornell — Wrigley's owner — notes, "If he didn't have that drug, I don't think he'd be here. It kept the cancer from spreading."
The drug, in this case has proven effective, but it does come with an overall 40 percent success rate. Additionally, it's expensive, and not something that everyone can afford.
Click here to read more about Wrigley's story.