Posted on
Tue, May 29, 2012 : 4:40 p.m.
Should you allow your dog on the bed? The answer depends on the pet's overall behavior
By Julia Levitt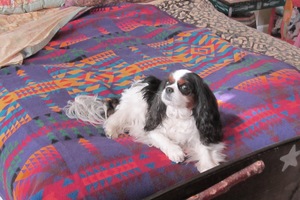 Julia Levitt | Contributor
When a client asks me if thedog can sleep on their bed, I answer back with a question: Does your dog pee on the bed? While my question may surprise some of you, peeing on the bed is a symptom of other undesired behaviors going on in the house. So if they answer "no," my answer is, "Yes, let your dog sleep on the bed."
But if your dog is aggressive, or dominant, or suffers from anxiety, the answer is not so simple. I would say "No. For now…"
Here's why: If a dog is in charge of your house (in other words, in charge of you), elevating a dog to a higher physical place — while it means nothing to you — means a lot to a dog. When a dog is at the same level as a human, in the dog's mind it is very powerful. In a dog's mind they are equal to a human.
Many people might comment that "It's okay for my dog to be on equal footing with me."
To look at this from a dog's point of view, it is helpful to understand that dogs are hierarchal. Yes dogs observe status within a group of dogs. There is always a leader. The leader gets to eat first — gets the first of everything. This is understood in dog lingo.
The leader is not the most aggressive bullying dog, and it can also be a very small dog. Minus a pack of dogs (e.g., in a home) — dogs assume the pack mentality with members of the family, and humans become part of their pack. They are hardwired this way.
In my latest puppy class, this was played out much to the surprise of the class members. Within seconds, four of the puppies began to play and roughhouse with each other. The fifth puppy calmly walked into class. It neither looked nor interacted with the other puppies.
"Pippa" calmly walked into the room and, as if by magic, all of the other puppies parted to let Pippa pass. Pippa calmly walked around the room . She neither sniffed nor engaged with the other playing pups. They all deferred to Pippa. It was instantaneous.
When I pointed this out to the class, they were amazed. This is the power of energy and body language.
How does this example relate to having your dog sleep on the bed? When we as pack leaders convey the same calm leadership to our dogs, the dogs recognize this and, as with the other puppies and Pippa, defer to us.
The concerns arise when we allow biting or growling at us, barking at the door at friends and strangers — all behaviors done to keep us in line. Hey — it works. We are then good pack followers.
But the dog -human relationship is upside down. When dogs live with other dogs no anxiety or aggression is seen. Why? Dogs are comfortable when there is stability within the pack. Stability does not happen when a dog is anxious. These behaviors are not found in nature.

Bruce let his little Rat Terrier, Sparky, sleep on his bed. The place Sparky chose was Bruce's pillow. Whenever Bruce got into bed, Sparky would growl at him. Eventually this behavior escalated into nipping. Sparky now sleeps in a crate — next to the bed.
So when you ask your trainer "Can my dog sleep on my bed?" tell them about other issues you have with your dog. Whether or not your dog should sleep on your bed is not a simple yes or no issue.
Julia Levitt is the founder of In Harmony Dog Training (www.inharmonydogtraining.com) in Ann Arbor. She can be reached at julia@inharmonydogtraining.com or at 734-645-4707. Julia provides individual training for dogs and their owners, and also conducts dog training classes at Ann Arbor Animal Hospital.