Posted on
Wed, Jul 11, 2012 : 6 a.m.
Dogs need time and practice to build social skills with people and other pets
By Julia Levitt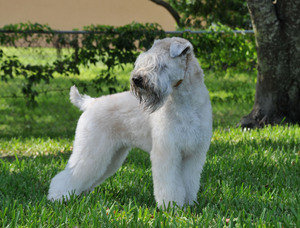 Photo by Linda Hallas
Dogs have to live successfully in two distinctly different worlds — and many dogs find this to be more than a little confusing.
Our dogs live in a society where they interact with both humans and other dogs. In the "human world," we have leash laws, and dogs don't roam free. Like us, they need to follow the rules of polite human interaction. They are not allowed to jump on a person they have just met.
When we take our dog to the vet, we want the vet to look forward to seeing our dog. We don't want our dog to be so fearful or aggressive that the vet has difficulty handling the dog.
What about at the groomer? I have had people tell me that their dog is too young to go to the groomer. It is never too young to begin socializing your dog. Just bringing your dog to the groomer so it can get used to a being handled and bathed is great for socializing the dog to the human world. What about taking the pup to the vet so it can sit in the lobby and not experience fear when it walks in the door?
These are big parts of socializing your dog to live in our human world. Sounds simple?
What about social skills in the doggie world? My dear friend Marilyn Stowell and I were talking about her club's annual picnic. Marilyn was one of the founding members in her area for the Soft Coated Wheaten Terrier Club of Tampa Bay, Fla. The meeting involved is Marilyn's annual club picnic.
Yes, these dogs are high energy — and have the qualities that terriers possess — enthusiasm and a hair trigger toward other dogs. When Marilyn gets to the picnic, she finds that, year after year, the same encounters occur. Someone ties a dog to the leg of the picnic table. Another person is talking to a friend and does not see the dog tied to the table. Explosion!
Does it have to be this way? Social gatherings are great, but remember the optimal word here is "social" with respect to both people and dogs.
Marilyn often talks about the following: "When we humans are in an environment where we are bringing our dogs, we better make sure that the dog is as happy as we are to greet other dogs. In order to do this we need to see what the dog sees."
She continues: "I am not saying getting down to their level of seeing the world. Although, if you did you would find a dog's-eye view very interesting. A dog does not meet other dogs face to face. People are the ones that push dogs to meet each other. Problems arise when people try to push their dogs to be friends.
"The way a dog would normally greet another dog is slowly. One dog would sniff the area near the other dog . If they are interested in meeting each other, they slowly approach each other — giving the traditional doggie 'hello' — sniffing nose to tail. Dogs like to have their space.
"People envision the meeting of dogs like it is a big party that we humans enjoy. When we go to a party we greet people face to face. Shake their hand, give them a hug. The excitement we have when we greet is interpreted by a dog as rude. By putting one dog in another dog's face and space is not what one dog would do with another. It is important to remember that dogs like to take their time and slowly greet each other."
I am respectful of introducing dogs in class. With clients, we have a session focused on having their dog greet another unfamiliar dog. My classes are not about obedience but "simple" manners. In them we cover what Marilyn mentioned — learning to see what the dog sees. Then we don't have to humanize the dog's behavior.
As you can see, even a picnic designed to be fun for both dogs and humans can turn out to be no fun when our dog's social skills do not exist. As I mentioned at the beginning of this blog, your dog must be given a chance to be social in the people world and the dog world. Your dog can practice socializing with other dogs at parks, pet shops, the vet, and the groomer.
The second part of socializing your dog is to make sure your dog is taught to be social in our world. A dog that is kept in a limited environment with only the living room window for their stimulation cannot be expected to know how to walk on a leash or how to interact with other dogs — and other people.
Marilyn gives me thumbs up on this, and your dog will give you paws up on this as well!
Julia Levitt is the founder of In Harmony Dog Training (www.inharmonydogtraining.com) in Ann Arbor. She can be reached at julia@inharmonydogtraining.com or at 734-645-4707. Julia provides individual training for dogs and their owners, and also conducts dog training classes at Ann Arbor Animal Hospital.