Posted on
Thu, Jul 21, 2011 : 12:09 a.m.
Area dogs have limited options when it comes to swimming to beat the heat, but Mill Pond Park beckons
By Lorrie Shaw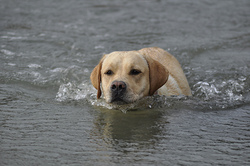 flickr photo courtesy of garyt70
We are surrounded by lakes, and this time of year, whether it's boating, fishing or swimming, Michigan residents make the most of their time near or in the water.
Water is a magnet for most dogs, and why not? It has so many redeeming qualities: it's refreshing, fun and offers another world, of sorts for dogs to explore. Playtime in the water can be pretty creative or straightforward, and it offers an amazing physical challenge when they are swimming or playing fetch.
This week, the idea to take your dog to explore some water has surely crossed your mind. With high humidity and scorching temperatures, playing outdoors for normal periods of time is almost impossible — and even unsafe. Heatstroke and other heat-related illness can quickly take hold.
So, many canines are stuck indoors until the heat finally does break, playing indoor games. But, as most dog owners know, that only goes so far when a pooch is used to far more activity.
Dogs bored out of their idle minds prompt their humans to try and find other safe outlets, and while buying a kiddie pool or a sprinkler makes for some fun, it isn't enough for some dogs — they could use a good workout that those two options just can't offer.
Locating a natural watering hole in Washtenaw County wouldn't seem to be a difficult task with so many inland lakes and such, so no problem, right? Not so fast.
Despite the access that humans have to summer fun in the water, in many places, dogs are not welcome. Unless you live on the water (or know someone who does), you might be out of luck in most areas of the Ann Arbor area, in fact.
After an inquiry from a reader, I started thinking about that aspect of summer fun for our furry friends.
For longer than I can remember, seeing dogs in the water alongside their human counterparts was very common at State Parks and Metroparks. I discovered that these days by and large, that is no longer the case.
Aside from the Annual Dog Swim at Rolling Hills Water Park coming up in September, it seems that there just aren't a lot of choices for fun in the water for area pooches.
After a few telephone calls to Metroparks and state parks staff and reaching out on Twitter, Facebook and Google+, I learned that while in a Metroparks' boundary, like Hudson Mills, dogs can get into the water, providing they are on a six-foot leash at all times and tethered to their owner — who is not allowed to wade into the water. (As I was told, the only time that humans can get into the water is to get into a kayak or canoe.)
State parks, like the Pinckney State Rec Area have a stricter policy when it comes to the water: Dogs are not allowed access to picnic areas or beaches, period.
One light at the end of the tunnel comes in the form of a local community park that does allow off-leash swimming. Mill Pond Park in Saline has a one acre off-leash dog park that boasts an area that's open to the water where dogs can swim and play, unencumbered.
Talking by phone with Carla Scruggs, parks and recreation director for the City of Saline, I was thrilled to confirm that there was indeed a place for four-legged family members to cool off and have fun. Mill Pond Park, the largest of the Saline community parks at 54 acres, has something for everyone in the family.
"Dogs can run and play off-leash within the fenced dog park, and they are welcome to swim," noted Scruggs.
Mill Pond Park, located at 565 W. Bennett in Saline, has loads to do for humans, too like ample walking trails, fishing, canoeing and even winter activities.
The rest of the week looks like it's going to end on an unbearably hot note, so if your dog is could use a little respite, grab a towel and head out — there is at least one place that dogs are welcome in the area.
Lorrie Shaw is lead pets blogger for AnnArbor.com. Connect with her on Google+ or e-mail her directly.