Posted on
Mon, Feb 18, 2013 : 6 a.m.
Domestic truffle industry being taken to a new level with the help of dogs
By Lorrie Shaw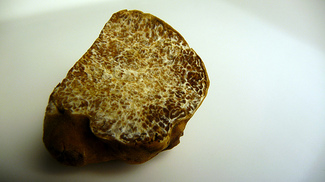 Flickr photo by Blue moon in her eyes
For many years each spring, I would make the trek to northern Michigan to hunt for morels. Their flavor and depth, I felt, was unmatched until I got a taste of truffles, their somewhat upscale cousin.
Truffles have been long sought after in food circles — earthy, woodsy in their taste but more so than a mushroom — and are infused into butters and oils, shaved over pasta and more.
For about 200 years, the coveted fungi have been cultivated in Europe, but now the practice has been gaining a foothold stateside.
Truffles grow on their own on the tree roots of hazelnut, oak, poplars — even Douglas firs. They can also be cultivated in hazelnut and oak orchards whose tree roots have been inoculated with truffle spores. The latter case is typically what you'll find in the United States. Farms, or plantations as they are sometimes referred to, have cropped up in the Pacific Northwest, California and a handful of southern states.
No matter where they are farmed, these little gems are pricey, up to a few hundred dollars per pound. It's not surprising, considering how they need to be harvested.
Since truffles are subterranean, locating each one can be a challenge.
A less-than-ideal way to harvest them — raking out the soil underneath the trees — can disturb not just the soil but tiny, immature truffles. Thieving truffle hunters who trespass on farms are notorious for this, much to the dismay of the farm owners.
For the latter reason, and of course because of the price that they fetch, the exact locations of truffle-rich areas are kept secret by those that cultivate them.
Using the power of scent to root out these delicacies is preferred to raking, and pigs have always been the go-to creature. But as you can imagine, having a pig walking alongside of you or with you in your vehicle can be a tip-off to others who might want to take a part of the bounty.
But a new trend is capitalizing on the olfactory talents of another equally able animal: dogs.
Everyone knows that a dog's sense of smell is powerful, and for that reason, canines have been employed in the tasks of drug and bomb detection and much more. Now they've become the natural choice to be a part of the growing truffle industry here in the United States. In fact, their involvement has probably helped to build a reputation in this country.
Canines are not new to the trade by any means. Dogs — namely the Lagotto Romagnolo breed — have been used since the start to unearth the delicacies and Alana McGee, a truffle harvester in Washington state and owner of Toil and Truffle uses the assistance of her 8 month-old Lagotto, Lolo along with her 6-year-old mixed breed, Duff, to hunt truffles.
"I get to be outside and with dogs," says McGee.
"I'm not a cubicle type of person."
Breed isn't so much an important thing when it ones to finding truffles, just ability: namely a nose for the task and the right temperament. Training is crucial to helping a dog hone their skills, and the methods to do so haven't changed much over the centuries.
Training can start when a puppy is just few months old, and people have their own preferred methods to introduce it. But, at its basic level, training can begin with a sponge ball soaked in a truffle oil-laced infusion, or a tennis ball slit open and stuffed with a piece of bread soaked with an infusion, which is then hidden. Once the dog finds the ball, lavish praise is given and the ball is hidden again and again, of course increasing difficulty and distraction over time.
Formal classes are taught by professional trainers as well.
Click here to read more in The Bark about truffle-hunting dogs, and watch the video below that illustrates how the hunting process works.
Lorrie Shaw leads the pets section for AnnArbor.com and owner of Professional Pet Sitting. Shoot her an email, contact her at 734-904-7279 or follow her adventures on Twitter.