Posted on
Mon, May 21, 2012 : 10:50 a.m.
Michigan-based trainer teaches dogs to hone their instincts with Nose Work
By Lorrie Shaw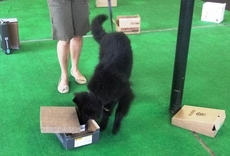 Photo by Angie Falcsik
The landscape of sharing life with a
dog
today is very different than it used to be.
We're understanding more about behavior, the needs of a canine and how to give them the best life possible.
Dog activities are a big part of what families are involved in these days, and a couple of them, including lure coursing and agility, have been featured here in AnnArbor.com.
There are other activities of course, like herding, rally, and disc dog, but there's one that stands out from the rest and for several reasons — K9 Nose Work.
Every dog can participate in this sport that's relatively young but gaining popularity, regardless of the age, breed, personality or physical ability. As long as they have a nose — and every canine does — they can do it.
The premise is simple: it's an activity where a dog uses its nose to target odor or scent that is "planted".
Inspired by the work that detection K-9s do, it borrows elements of that serious activity and applies it to a fun principle.
It's an equal-opportunity sport for the humans involved, which differs from others, like agility.
Angie Falcsik says that one of the greatest things about K9 Nose Work is that it's all done on the dog's time, and it gives them the ability to be self-directed — unlike other sports, which requires the handler to give direction.
Being self-directed means using their instincts, and their minds, something that Falcsik can appreciate.
As a professional dog trainer since 2002 and the only certified K9 Nose Work instructor in Michigan, she is all about helping dogs to be their best. And as a professional, she's seen her share of dogs that need help, especially fearful ones, like Balto — a Malamute who had considerable trouble managing at his first class, seen here.
"I've yet to find a sport that helps so profoundly with fear-based issues."
What is that based on? K9 Nose Work builds trust back into their environment, as the dogs needs to use their own instincts, as opposed to participating in a handler-led sport. Plus, it's built on the premise that the dog has to have fun and that they are set up to succeed.
No aversive techniques are used in this activity.
A crucial part in beginning is knowing what really motivates your dog; this is helpful because rewarding a dog for targeting the scent (birch is a common scent that is used) immediately is key. So, high-reward treats are typical.
Falcsik, who owns Pawsitive K-9 Obedience in Charlotte, got interested in Nose Work years ago, and started out by traveling to Chicago for a class in 2010, and after completing subsequent classes and workshops, in November 2011 she became the first (and currently only) certified K9 Nose Work instructor in Michigan.
The ease of getting involved and the affordability make it an attractive sport. Plus, the introductory classes, which are done in an indoor setting, usually a room, are very simple.
"All that you need are some free boxes and some food," says Falcsik.
Having a collar or harness that you only use for the activity is ideal, as it helps the pooch associate that gear with the idea that they'll be participating in the fun activity — yet more positive reinforcement.
"K9 Nose Work is fascinating. The environment is different every time," she said. Changes occur as the team advances to more challenging levels (if they choose to; this sport is not about performance against other dogs), like working outdoors (the period after it rains changes the smell of everything) or targeting a scent on a vehicle, where dog can use the more advanced problem-solving techniques that they develop.
The National Association of Canine Scent Work (NACSW) the only official organization that is a sanctioning body of the sport of K9 Nose Work (and who certified Falcsik) and got its start in California in 2006, where a small group of handlers experienced in detection work and other more serious areas got the idea to create the sport with the elements of those activities, but to make it more fun and accessible for both dogs and their humans. By 2008, the first event was held, and in 2009 the first official trial took place. 2010 saw six official trials, and by last year, 43 trials were on the schedule.
As Falcsik notes, any dog can learn and participate in this sport — from the everyday dog with no behavioral issues or one that has a tendency to be high-energy, those who have physical challenges (she has one client, a Great Dane who is blind and deaf) to canines who are fearful or reactive.
Since only one dog and its handler are on the floor at a time, it's ideal for dogs that are in the latter two categories.
One of the problems that can exacerbate problem behavior in canines today, as Falcsik explains, is that dogs don't have to rely on themselves anymore. We provide everything, from food and shelter, among other things.
"This activity engages the dog fully, and allows them to hone in on their own instincts and decision-making skills," something that dogs with reactivity or fearfulness have lost touch with. Plus, it builds confidence, as you can see with Balto in this video, by week five of the class.
"It's wonderful to watch a fearful dog come out of its shell — the little 'ah-ha' moment that you see in their body language — it brings tears to my eyes."
What's more, Falcsik says that handlers have plenty of their own 'ah-ha' moments of their own, when they recognize cues from their dog and come to a better understanding of their four-footed friend.
Falcsik has facilitated events all over, including here in the area at the Ann Arbor Dog Training Club. She currently has a couple of clients from Ann Arbor that make the trip to the Lansing area for classes, but it's her goal to begin teaching here in this area.
"Interest in this sport is definitely building in the Ann Arbor area," she says. And she's eager to see it grow more.
Check out this video of one of Falcsik's clients engaging in K9 Nose Work.
Lorrie Shaw leads the pets section for AnnArbor.com. Catch her daily dog walking and pet sitting adventures or email her directly and subscribe to AnnArbor.com's email newsletters.