Posted on
Thu, Oct 11, 2012 : 6 a.m.
Those who don't follow leash laws can cause problems for law-abiding dog owners
By Julia Levitt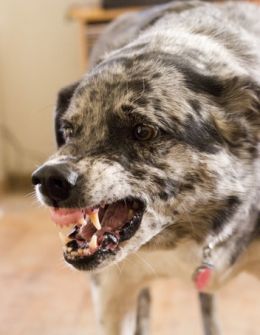 Photo by Flickr user MMcCart
Many years ago — long before I was a dog trainer — I used to be quite casual about navigating one of my favorite
walks
. It had one big hazard, but I believed that I could manage it.
In order to get from point A to point B, I passed a house where the dog always lay on the front lawn. It started like so many things — innocently enough, or so I believed. When I would walk by the dog, on the sidewalk with my two dogs, the dog lying on its property would growl very softly. Eventually I began to walk in the street as I approached the protective dog on its lawn.
On one unfortunate day, the walk began like any other. As I approached the house, I started to walk my dogs into the street in my usual manner to avoid the growling dog. What made this walk different was that I heard the dog growling much more loudly. Too late! I quickly maneuvered my dogs into the middle of the street as the black dog came after us. Yikes! The sleeping volcano had erupted!
The dog ran after us, but soon he turned around and ran back to his owner. He came close to one of my dogs but did not bite her. When I finally looked up, one of the owners of the dog was bending over her dog and petting it. I called out that she owed me an apology. This did not occur.
Later that morning I contacted the Dog Warden of Ann Arbor and told her that a dog that was not on a leash attacked me and my dogs. I contacted the Dog Warden because it is illegal for a dog to not be on a leash and because I did not want the dog to ultimately hurt someone else.
The first step for the Dog Warden was to notify the people responsible for the dog. They denied the event took place. I chose not to ignore the problem. The Dog Warden indicated that the next step was to bring the matter to small claims court, where issues like this are heard.
The only comment the owner made in court was that she was wearing earphones and could not see what happened! The judge ruled that the owner was responsible and a fine of $50 was issued. After I left the courtroom, I saw the man who also owned the dog arguing loudly with the city attorney that this event never happened. Of course he was not present when this event occurred.
Who was at fault? You decide.
Here are the facts:
I was walking my dogs on a public sidewalk.
I consistently passed a house where the dog was growling.
The dog was not on a leash.
The "leash law" in Ann Arbor defines the circumstances for which a dog is considered under "reasonable control": "(The dog) must be secured by a leash held by the owner or the owner's agent. (The dog) must be secured by a leash which is attached to a stationary object and attended by the owner or the owner's agent. (The dog is) on the premises of the owner or confined in a vehicle. Note: Sidewalks and lawn extensions are public. Dogs should not be left outside stores and restaurants while owners are inside. All animal control regulations apply to parks."
Questions you are probably asking yourself:
Why didn't I change my walking routine?
Knowing the pattern of the sleeping volcano, why didn't I just walk on the other side of the street?
Here are some questions I will ask of you; when you walk your dog:
Do you often pass by another dog in your neighborhood that is not confined by a fence or leash?
Do you walk your dog past another dog even if that dog lunges at your dog?
Can you control your dog when it is walking by a dog rushing to its fenced yard barking at you?
What happens when a loose dog attempts to run at your leashed dog?
These situations happen all the time.
What happened to me after my court date with the loose black dog? Happy ending — the owners acknowledged that their dog had acted inappropriately and paid the fine. In the end I was lucky. My dogs and I were not hurt. I learned some valuable lessons, like being more proactive when facing potentially volatile situations.
Whenever I am unsure of any dog on or off a leash, I cross the street.
If I encounter a situation where I see the dog loose more than once, I change my route.
If a loose dog is charging after my dogs, I react calmly. I make sure the other dog does not follow us, and I am on my way.
What if a dog is loose and sees us but does not approach us? I look for a few seconds to see if the owner is in sight. If not, I keep walking.
Be safe and enjoy your walks with your best friend.
Julia Levitt is the founder of In Harmony Dog Training (www.inharmonydogtraining.com) in Ann Arbor. She can be reached at julia@inharmonydogtraining.com or at 734-645-4707. Julia provides individual training for dogs and their owners, and also conducts dog training classes at Ann Arbor Animal Hospital.