Posted on
Mon, Oct 29, 2012 : 6 a.m.
Exotic birds can suffer from painful osteoarthritis, but there is help to reduce the effects
By Lorrie Shaw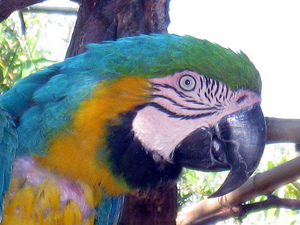 flickr photo by Dru Bloomfield
The pain associated with
osteoarthritis
is a common topic that pet owners bring up during veterinary visits, and it's not something that only those with dogs and cats find that they need to talk about.
Birds
can suffer from painful joints as well.
The biggest problem, aside from the pain, is that it's a degenerative disease.
Usually age-related, it can be caused by injuries or even an infection.
There are ways to help address the disease, like installing braided rope perches or soft synthetic perches to help tender joints. Another solution is providing several perches of different diameters so feet don't cramp up from always being in the same position on a perch.
Medication is available for avians with arthritis, including non-steroidal anti-inflammatories (NSAIDs) to give a bird for long-term relief.
Excess weight may contribute to a bird's osteoarthritis, just as in other species of animals. Recently, I talked about ideas to keep a birds at a healthy weight. Click here to read more.
But, first and foremost, a visit to a veterinarian who specializes in birds is necessary to get to the bottom of an avian's joint pain, as they do have needs that differ from other species. A professional diagnosis is the key to helping a bird to live with less pain and preserve the integrity of their joints.
Lorrie Shaw leads the pets section for AnnArbor.com and is owner of Professional Pet Sitting. Shoot her an email, contact her at 734-904-7279 or follow her adventures on Twitter.