Posted on
Wed, Jul 24, 2013 : 6 a.m.
Feline blood transfusions: Donor cat Oscar helps other kitties in need
By Ann Arbor Animal Hospital

Animals touch our lives in many ways, and some of these animals actually do work as part of their life (although they are often great pets too). This is the first in our series about Feline Blood Transfusions and some of the cats who are donors. We start with the tale of "Oscar" a kitty who has been a blood donor at the Ann Arbor Animal Hospital.
Cats in certain medical situations need blood transfusions. It might be due to trauma, surgery, cancer or infectious disease. Because of the unique nature of cats, feline blood products are harder to supply than canine blood products. This is the main reason we sometimes have healthy cats become blood donors.
Oscar was an existing patient at the animal hospital when his owner notified us that a health condition she developed would no longer allow her to keep him. She was not only affected by the recentness of her own health issue but impaired even more so at the prospect of surrendering Oscar to a shelter.
He appeared to be a good candidate as a blood donor (see the sidebar), so he was tested and found to be an acceptable donor. His owner relinquished him so he could find a new home being a blood donor at the animal hospital.
Teresa, one of the employees at the hospital, originally agreed to foster the blood donor cats for our facility shortly after her own cat, Angel, passed away. Anyone who has lost a pet knows the emptiness and sadness experienced while going through the grief journey.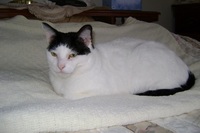 photo courtesy of AAAH
"After losing Angel, I was approached by co-workers wondering if I'd consider acting as a 'foster mom' so Oscar could enjoy a home in between his blood donations," Teresa recalls.
"Fostering Oscar is a win/win situation. He and I both enjoy loving attention and companionship we might otherwise not know."
"Oscar enjoys my apartment, especially the third-floor balcony which overlooks a wooded/grassy area where people walk their dogs. He watches them intently, as he watches the squirrels and birds, and peeks back at me to be sure that I'm watching as well."
Teresa agreed that if called, she would bring him ASAP to any kitty in need of his blood at the hospital.
"No matter where I went, or what I was doing, I would keep the 'Oscar Hotline' nearby in case they called needing him to donate his blood. He's donated blood several times and saved some kitties' lives. I'm proud to be his foster mom," Teresa beams.
Oscar is retired now and lives with Teresa.
"He still crawls up on my shoulder for cuddles just like he did when he lived at the hospital and purrs like there is no tomorrow." She only brings him back to the hospital if he needs something.
Watch for parts two and three of this series in the near future.
David Caddell is the hospital director of the Ann Arbor Animal Hospital, a locally owned and operated Companion Animal Hospital. David can be reached at 734-662-4474 or dcaddell@AnnArborAnimalHospital.com.