Posted on
Fri, Sep 3, 2010 : 8:26 a.m.
Living vicariously through a dog can help you discover your own joy
By Lorrie Shaw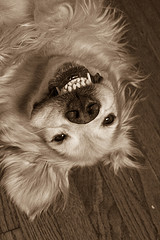 flickr photo courtesy of Dustin Tinney
Frequently on daily outings with clients, we'll pass other people and dogs who are also enjoying a hike or a walk.
I always find myself paying close attention to the interaction between the pet and person on the opposite end of the leash - usually the owner, as I invariably find out through conversation. I observe the way that the dog (and, yes the occassional leashed cat) is soaking up his or her surroundings. It almost always appears that it's pleasureable.

Make no mistake - dogs have a way of experiencing life without abandon, living life in the moment, almost daring their people to do the same. Dogs teach us so much about getting the most out of life and having joyful experiences, don't they? Maybe that why dog ownership is so popular.
Admittedly, as a fairly enthusiastic person, I find it pretty hard not to live vicariously through the dogs in my life.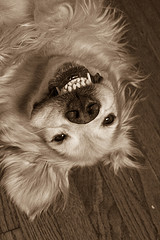 flickr photo courtesy of Dustin Tinney
Earlier this week, I was walking a client after a heavy rain. The moments after a rainy period are especially fun for dogs when spending time outside, as everything is washed clean of the previous smells and pooches linger in their yards or on their route to digest all of the new input. This pooch is no exception.
We
hike
on a trail near her home and it's a hotbed of
sensory input
. She can sniff to her hearts' content. Although she's tethered with a retractable leash, it's where this city dog gets to be a dog, plain and simple. She always peeks back to see if I am still "around" (of course I am). I wonder if she gets so engaged in her sniffing and discovering that she forgets about me behind her, holding the leash. I hope so. I don't think that a lot of dogs get the opportunity to get lost in an activity like that, and it's healthy, I think.
Other dogs in my life just want me to be there. One in particular liked to just be outdoors on the deck, watching the birds and other wildlife do their thing with me sitting next to him. Nothing seemingly "exciting," but it was gratifying to him. That was the important thing.
My own dogs have their favorite things that bring them joy. With a large piece of property at their disposal, they have a lot to keep them engaged and happy. Grab their leashes from the closet, though, and they both act as though they are going to burst. Walks are most definitely a favorite.
Bruiser loves to chase tennis balls, especially when we use a Chuck-It toy. He really enjoys running through the deep snow, and biking. Bruiser is a chewer, too. Give him any type of chew toy and he's happy. He also loves to be chased, to wrestle and get tickled.
Gretchen? She loves remote-control cars: chasing them, barking at them, trying to destroy them. (I buy cheap ones for her.) She also has a penchant for opening gifts: she will pull the paper stuffing out of a gift bag excitedly to reveal a toy or a gift - and will literally "unwrap" a gift by tearing off the gift wrap to see what's in the box.
All of these things, they get joy from, but I get to share in it too.
It's important to be mindful of this throughout a dogs' life.
Are you seeing a pattern here? The majority of these activities consist of dogs being interactive with their people. Not only are these experiences fun for both parties, but in the process, they foster and strengthen their bond. Dogs have evolved to co-exist with humans and in many cases today - living full time, side-by-side. The best part about this arrangement is that both species can know joy collectively, and get a glimpse from each others' vantage point. I'm convinced, though, that I learn far more about life from seeing things from a four-footed point of view.

Lorrie Shaw is a regular contributor to AnnArbor.com and owner of Professional Pet Sitting, collecting joyful experiences as a dog walker and pet sitter for many species. Contact her via e-mail.