Posted on
Fri, Dec 31, 2010 : 10:36 a.m.
Friday Pet Blogging: Sweet faces round out the year's end
By Lorrie Shaw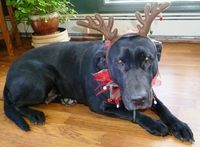 With a restful week off from the usual routine in full swing for many area residents, pets are a part of that, and it shows! Whether they are enjoying a little down time at home or donning holiday gear, companion animals always make us smile.
Check out this week's slideshow to see area pets.
Would you like your pets' photograph included on our Friday Pet Blogging feature next week? To participate, simply email your photo to ppsa2mi@gmail.com at any time during the week. Please be sure to include the animal's name, age and city or township of residence in your email, and photos should be 600 pixels wide and in .jpg format.
We recognize that there are animals in some readers' lives that might be a little "unconventional" — and we welcome photos of all of them, whether they be furry, scaly or feathered. Don't forget horses and pot-bellied pigs! That would be a great way to start the New Year!
We put the week's photos into a slideshow, publish and promote each Friday here in the Pets section.