Posted on
Thu, Nov 17, 2011 : 6:26 p.m.
Is secondhand smoke harmful to pets? Researchers say yes
By Lorrie Shaw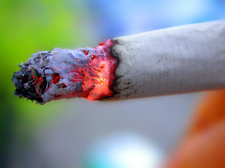 Flickr photo by superfantastic
Today marks the American Cancer Society's 36th year that the Great American Smokeout takes place — meaning people nationwide are making the attempt to forgo their daily habit for a day or for life in an effort to live healthier lives.
But kicking cigarettes won't just affect humans, it can promote a healthier environment for pets, too.
Obviously, pets breathe the same air that we do, and are exposed to environmental toxins that their human counterparts are. What you might not know, is that they are vulnerable to the effects of secondhand smoke, just as humans of any age are.
Some pets, cats in particular, are at double the risk of getting cancer if they live in households with people that smoke. One specific type of cancer, malignant lymphoma, seems to be directly connected.
Feline malignant lymphoma is the most common type of cancer found in cats.
Since as early as 2002, clinicians have been talking about this correlation, when a study done by researchers from Tufts University and University of Massachusetts released their findings, which were unexpected.
Lymphoma typically affects the nasal cavity and intestines of felines.
Dr. Antony S. Moore, DVM is one of the researchers involved in the study.
"We were interested in lymphoma because it's the most common cancer in cats and not very treatable," he says.
"At the same time, we wanted to figure out why we were seeing more feline lymphoma when leukemia virus was becoming less prevalent. We looked at flea control products, diet and other variables, and smoking came out very strongly."
Further findings also indicate that cats exposed to secondhand smoke for five years or more are at triple the risk of developing malignant lymphoma.
Another equally deadly type of cancer, squamous cell carcinoma — which affects the mouth — is also connected to exposure to secondhand smoke.
To read more on the report, "Environmental Tobacco Smoke and Risk of Malignant Lymphoma in Pet Cats", click here.
Lorrie Shaw is lead pets blogger for AnnArbor.com. Catch her daily dog walking and pet sitting adventures or email her directly.