Posted on
Sun, Feb 3, 2013 : 6 a.m.
CDC says pet hedgehogs are behind recent Salmonella outbreak in Michigan and other states
By Lorrie Shaw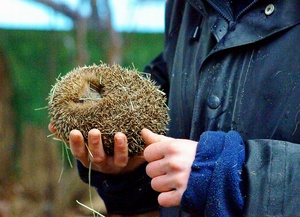 Flickr phot by Peter G. Trimming
Pocket pets
are very popular in families with children, and it's no wonder: they're small, cute and very different than traditional pets, like dogs or cats.
The considerations and care of pocket pets differ as well, and one species has been cause for alarm as of late because of that.
The Centers for Disease Control indicates that in the last year, 20 people have been infected by a rare but dangerous form of salmonella bacteria, Salmonella Typhimurium, and investigators say the illnesses were linked to contact with pet hedgehogs, including some in Michigan.
One person died.
Other animals that are more commonly known to carry the pathogen are frogs, toads, turtles, snakes, lizards — even chicks and ducklings.
Although any hedgehog can carry salmonella, the African Pygmy has been most often cited as being a common thread in the majority of cases reported.
Hand washing is a crucial practice that needs to be used by everyone that has contact with animals of any kind, and here are a few rules of thumb to prevent illness:
Clean up after your pet. If you have a dog, use a plastic bag to pick up the stool, and clean up the stool while on walks or from the yard and dispose of the stool in a tightly sealed plastic bag. For cats, scoop the litter box daily and dispose of the stool in a tightly sealed plastic bag. After contact with an animal's fecal matter, wash your hands with soap and running water. (Abide by the "Happy Birthday Rule"!)
Wash your hands after feeding your pet (treats, too).
Wash your pet's bowls and foraging toys after each feeding. Regular washing of water bowls is good, too.
If you transfer your pet's kibble to a storage container, do not mix batches of food. Be sure to wash the container, rinsing and drying thoroughly before adding a new bag of food to it. Save the packaging (it has the valuable UPC and 'best by' information on it)!
Wash your hands after handling your hedgehog and other pocket pets.
Wipe down the area where your pet eats its food, and using a mild bleach/dish washing detergent solution is a good idea, ensuring that you rinse thoroughly.
Click here to read more from the CDC website about the matter.
Lorrie Shaw leads the pets section for AnnArbor.com. You can follow her daily pet adventures on Twitter and subscribe to AnnArbor.com's email newsletters.