Posted on
Fri, Mar 4, 2011 : 5:23 a.m.
Horses and other large animals may get relief from insects from an unlikely source: catnip
By Lorrie Shaw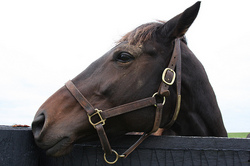 flickr photo courtesy of tasweertaker
Horses have been long-plagued by the painful bites of insects like stable flies.
These blood-sucking flies (Stomoxys calcitrans) attack cattle as well.
Traditional ways of repelling the pesky — and sometimes disease-transmitting — pests usually require the use of insecticides. This approach can in some cases be ineffective, so researchers decided to try something that has been used in the past for small animals, and is based on natural ingredients.
For years, catnip oil has been used to help repel other insects, such as mosquitoes and flies.
Cat owners everywhere know the fun benefits of the herb, which is formulated into sprays, dried and put into cat toys. A member of the mint family, Catnip creates a euphoric effect in felines and acts as an artificial cat pheromone.
Planted in our yard each year, catnip is a hardy herb that we pluck off and give to our cat — unless he visits the spot first!
According to a report published in the American Chemistry Society's biweekly Journal of Agricultural and Food Chemistry, catnip has shown to be 99 percent effective in repelling the flies that attack large animals, like cattle and horses.
A study was done by spreading pellets made from paraffin, soy and catnip oil in cattle feedlots. The herbal oil had an effect of about three hours. A feedlot treated with pellets without catnip oil showed no difference.
The results were so dramatic — 99 percent effective, in fact — that researchers are trying to figure out a way to make the effect of the herb last longer in pellet form.
Read more here about the findings.

Lorrie Shaw is lead pets blogger for AnnArbor.com and gets to spend her days as a dog walker and pet sitter in the Ann Arbor area. Follow her daily pet adventures on Twitter.