Posted on
Mon, Apr 15, 2013 : 6 a.m.
Understanding important rules for playing tug with your dog can keep it fun and safe
By Lorrie Shaw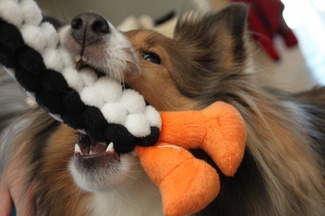 Flickr photo by mccun934
Play is vital to the emotional and physical well-being of a dog, and quite honestly when it comes to getting the most out of playtime, variety is the spice of life.
There are lots of toys that are geared toward different styles of play, as well as games that you can use to interact with your pooch.
From time to time, I'll hear someone say that playing tug is a bad idea, and that it encourages "dominant" behavior.
That couldn't be further from the truth. In fact, tug is a great way to bond with your dog while they get to diffuse some of the extra energy they have.
When dogs play, they often rehearse behaviors they would use for survival. Tug is no exception; in this case, it would be predation.
Although pet dogs today don't need to use this skill, it is part of their genetic code. It's actually quite stimulating mentally while providing a good physical workout. (In fact, dogs often play it with each other — which is great if they are familiar with each other and get along.)
The right toy can make all of the difference when playing tug with your pooch. There are a few on the market, like the Kong Tug or a rope toy — they're both strong and durable. When you establish specific toys for the game (along with a command that I'll discuss), your dog will learn that there are "off-limit" toys and objects, and using those won't be such an issue.
Since it's such an interactive and physical game to engage in with your pet, it is important to keep a few things in mind and to teach your dog a few rules of engagement to keep it safe and fun.
Age-appropriate considerations
First, not everyone should play tug with your dog. Toddlers and small children lack the sophistication to understand the nuances of the game, and for that reason, they are at an increased risk of injury. That's why it's crucial to establish clear boundaries with both children and pets. The game — and the tug toys — should be "off limits" where the two are concerned, even under supervision.
Room to move
Since the game can become quite enthusiastic, it's a good idea to play it in a room that has plenty of space, or better yet, outdoors.
Make it fun — and fair
As with any activity or training exercise that you engage your pets in, setting them up for success is crucial to them learning, being mentally simulated and having fun. All in all, the game is more about the one-on-one attention and bonding that you share, but don't forget to let them "win" at the game, too.
Teaching the rules of engagement
Take It
Teaching "take it" allows you to give your dog a specific cue that signals to him that he may pick up the toy with his mouth. This helps prevent your dog from picking up just any object to engage in a game of tug and lets you initiate the game.
Drop it or leave it
This command is also essential: the game can get a little out of hand if your pooch gets too excited, and teaching him to "drop it" is invaluable in helping you to regain control, or to simply keep the game in check. I recommend teaching "drop it" with a toy that has less value before you teach it with their tug toy. By learning this command, your dog gains the skill of self-control: only after he releases the toy can the game resume!
Click here for a tutorial on training your dog to "drop it".
No teeth on skin
Your pooch needs to learn to be very mindful about where he puts his teeth, and the nature of this game can be a bit of a challenge when it comes to that. Timing is everything when teaching this, so as soon as teeth touch your skin, immediately signal it with an "ouch!" or "oops!" and let the toy drop. Wait 20-30 seconds before you resume the game. This rule helps teach your dog to be careful with how he uses his teeth — and you safe.
Final considerations
For obvious reasons, if your dog has aggression problems, you should not be engaging him in tug.
That said, the distinction between aggression and behavior that is normal needs to be made. Yes, tug is a competitive, enthusiastic game, so a bit of growling and noise making is perfectly normal. If your pooch is vocalizing in a familiar, friendly way, no need to fret. If it escalates and you're unsure of how they are responding, it's wise to take a breather.
Lorrie Shaw leads the pets section for AnnArbor.com and owner of Professional Pet Sitting. Shoot her an email, contact her at 734-904-7279 or follow her adventures on Twitter.