Posted on
Tue, May 1, 2012 : 2:50 p.m.
HSHV's first "Adopt-a-Thon" yields 1,000th adoption of 2012
By Lorrie Shaw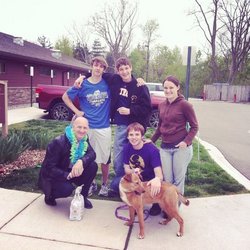 Photo by HSHV
Finding innovative ways to help homeless pets is never a problem at the Humane Society of Huron Valley, and their latest endeavor demonstrated that.
This past Saturday offered up some cool weather, but that didn't stop area families from coming to the organization's facility in Ann Arbor to be a part of their first-ever adopt-a-thon, which by day's end resulted in the successful adoption of 67 pets to permanent homes.
The goal of the adopt-a-thon was to bring attention to the numbers of homeless pets in the community, not just to find homes for them.
"So many old perceptions exist around shelters, and we want people to see that HSHV is not like any other pet adoption center they have visited," said Renee Benell, HSHV Adoptions and Customer Service Manager.
A long line — 30 hopeful families — formed outside the facility before the doors were unlocked at 9 a.m. that morning, and it was no wonder: word of the event spread fast via social media and good planning on the part of the organization.
About half of the adoptions happened in the first three hours of the event.
Activities and engagement were a big part of the family-oriented event, and included giveaways, kid's activities, dog training and trick demonstrations and educational sessions on pet care and wellness.
The Lucy Ann Lance Show broadcasted live from the event in the morning, and featured one special pooch, Magoo, a Newfoundland/Lab mix and graduate of the MI-Paws program.
Local businesses Dairy Queen, The Bearclaw Coffee Co. and Washtenaw Dairy were on hand to provide refreshments and area animal nonprofits Midwest Rabbit Rescue, Great Lakes Zoological Society and Avian Bird Rescue were on site to highlight proper care and awareness of the plight of homeless pets that one might not be as familiar with — bunnies and exotics.
"A big thank you must go out to the 137 volunteers that gave their time to make the day so enjoyable and who kept things running smoothly," noted Deb Kern, HSHV marketing director.
"Our first ever adopt-a-thon was successful in many ways, but the real winners were all the adopters and the pets that found their new forever homes."
Updates from the organization's Facebook page allowed people to stay connected and to interact, a way for the event to maintain momentum throughout the day.
Z Reinhardt, the Copy Cats and the Shelter Dogs provided live entertainment in the early evening, and by the time that the event ended at midnight, HSHV had reached another milestone: the 1,000th adoption for 2012 resulted in Matisse, a 7-month-old Collie/terrier mix finding a forever home with a family in Ann Arbor.
With the success of this inaugural event, it's likely that there will be other chances to participate. HSHV is contemplating another adopt-a-thon in the fall. If you're ready to welcome a pet into your family, there's no need to wait that long: there are plenty of pets who still need adopting.
Kern ends, "This time of the year is when our facility reaches capacity as kittens start entering in large quantities."
For more information on adoptable pets, programs and volunteer opportunities, visit hshv.org.
Lorrie Shaw leads the pets section for AnnArbor.com. Catch her daily dog walking and pet sitting adventures or email her directly and subscribe to AnnArbor.com's email newsletters.