Posted on
Wed, Dec 7, 2011 : 9:19 p.m.
Procter & Gamble issues voluntary recall of puppy food in 16 states
By Lorrie Shaw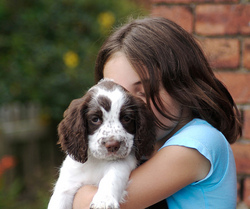 flickr photo by smlp.co.uk
A voluntary recall involving one type of dry pet food has been announced by the Procter & Gamble Co. on Tuesday, Dec. 6.
The recall is because of aflatoxin levels that are higher than acceptable and affects the following states: Alabama, Connecticut, Delaware, Florida, Georgia, Louisiana, Maryland, Maine, Mississippi, North Carolina, New Hampshire, New Jersey, New York, Pennsylvania, South Carolina and Virginia.
Aflatoxin, according to the Centers for Disease Control, is a fungal toxin that commonly contaminates maize and other types of crops during production, harvest, storage or processing. Aflatoxin, a mycotoxin, has been known to affect the liver when consumed. No animal species are immune to the effects of the toxin. Click here to read more about aflatoxin.
The puppy food that is affected is Iams ProActive Health Smart Puppy dry dog food and has "use by" or expiration dates of Feb. 5 or Feb. 6, 2013, and the following lot and UPC numbers:

7.0-lb bag: code date 12784177I6 - UPC code 1901402305



8.0-lb bag: code dates 12794177D2 & 12794177D3 - UPC code 1901410208



17.5-lb bag: code dates 12794177K1 & 12794177K2 - UPC code 1901401848


No other pet consumables are included in this recall, and all of the affected product has been removed from shelves.
No illnesses have been reported; however pets that have consumed this product and are presenting with symptoms — including vomiting, sluggishness or lethargy, lack of appetite, yellowish tint to the eyes or gums or diarrhea — should be seen by a veterinarian.
Click here to learn more about the process of a pet food recall and the role of consumers, veterinarians and companies.
For further information or a product replacement or refund contact Procter & Gamble toll-free at 866-908-1569 (Monday - Friday, 9 a.m. to 6 p.m. EST) or www.iams.com.
Click here to read the FDA recall press release.
Lorrie Shaw is lead pets blogger for AnnArbor.com. Connect with her on Google+ and follow her daily pet adventures or email her directly.