Posted on
Sat, Nov 27, 2010 : 8 p.m.
If you could change one thing about your pet, what would it be?
By Lorrie Shaw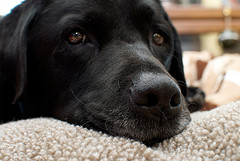 flickr photo courtesy of pmarkham
Over the years, Chris and I and our pets have grown alongside each other, but it hasn't been without a few glitches along the way.
There are a few things that Chris and I have both voiced that we would like not to happen when it comes to all three companion animals — our dogs, Gretchen and Bruiser, and Silver, our cat.

With the number of households in the United States owning at least one pet, I would venture to say many people have experienced things similar to what we have in our house.
Our cat has a ritual with Chris — an annoying one at that — that consists, each morning, of Silver sitting outside of the bedroom doorway and vocalizing as loudly as he can, over and over. He does this because he knows that before Chris leaves for the day, he'll get some dry cat food. Even if I'm home and toss him some food, it doesn't matter: Chris has to do it, and only then does he quiet down. One thing that helps is to keep him occupied with a foraging toy.
Bruiser, our yellow Labrador had a habit of pulling on his leash, but after getting a front-clip harness, that stopped.
Being a St. Bernard/Shepherd mix, Gretchen has most of the great qualities of both breeds, right along with one quality that they share that's not so favorable: their coarse, thick, fur. It drives us crazy. She sheds so badly sometimes, that whenever she gets up and walks, she looks like Pig-Pen from the Peanuts cartoon (yes, I do brush her and use a deshedding tool, etc.). Shedding is something that we just have to live with.
There are also things that we adore — their personalities and their rapport with each other.
There are things that we would ideally change if we could, but that's life with pets. After all, we've got ourselves and two other species co-existing together; that can be asking a lot, in my book.
But, all of this got me thinking: What, if anything, would other people change about their pets?
Participate in the conversation! Take the poll and leave your comments:
Lorrie Shaw is owner of Professional Pet Sitting, and a regular contributor to AnnArbor.com's pet section. She wrote the popular piece "Excessive barking problem? Local behaviorist/trainer offers safe, humane solutions". Reach her via e-mail and follow her pet adventures on Twitter.