Posted on
Sun, Jun 13, 2010 : 5:55 a.m.
Skunk spray: a proven method to remove it, and food for thought on its other effects
By Lorrie Shaw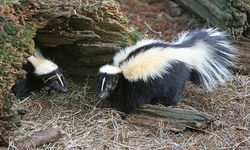 Photo courtesy of Tom Friedel
Imagine you let your dog out to do his business late at night, and he gets tangled up with a skunk. You've got one angry pooch on your hands as well a smelly, awful mess. Interestingly enough, a client who is from England told me this would never happen there, as they have no skunks living in the wild.
According to chemist Paul Krebaum, a solution of 3 percent hydrogen peroxide, baking soda and liquid soap will neutralize the skunk spray. It's fascinating how it works. Thiols are the organic compounds responsible for the odor in skunk spray. The chemical composition in a simple recipe changes the thiols' ability to do their thing by oxidizing them.
The pungent, unmistakeable smell of skunk musk is only one reason for concern. If your pet has been sprayed in the eyes, get in touch with your vet, as the spray can cause intense pain, although permanant blindness is not usually the case. However, if you notice any out-of-the-ordinary behavior or symptoms from your pet after the incident, you might want to consult your vet. Researchers from Michigan State University are doing a study on the effects of toxins in skunk spray. Small dogs are more prone to more significant problems from being sprayed. In rare cases, the skunk spray can enter the lungs, causing death.
Use care when bathing your pet if it has been sprayed by a skunk. Some people have experienced some reactions themselves, like itching and respiratory difficulty.
And, for the record, tomato juice is not effective in resolving the issue. It will only frustrate you, and leave you with a humiliated, slightly pink pet.

Lorrie Shaw is a pet blogger, a regular contributor to AnnArbor.com and owner of Professional Pet Sitting. She has extensive experience with animals including dogs, amphibians, exotic birds and cats, and is always interested in learning new concepts in animal behavior and health. Contact her via e-mail.