Posted on
Sat, Feb 26, 2011 : 11 a.m.
Spring thaw may reveal negligence in dog duty - cleaning up pet waste a difficult but necessary task even in winter
By John Spieser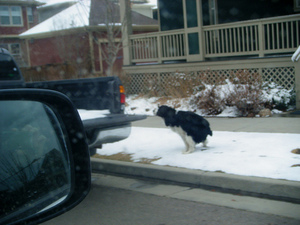 Photo by Bradley Gordon, courtesy of Flickr
Although it barely seems plausible right now, if Mother Nature performs with any degree of consistency, in a few weeks we will likely experience quite a melt off from all of this snow. Along with all of the compelling spring-like energy this annual event brings, and the desire to finally "look up" while you're walking along, relishing the balmy breeze on your cheeks....
it may behoove you to continue looking down and watch where you step!
I know, I know: "I always bring a bag (or three) and clean up after my dog." "It disgusts me how lax other people are about their dogs poop!" Everyone claims it's the other guy to blame. (If you really are a die-hard poop-scooper, I commend you and thank you!)
I think that the real truth is that, for many of us, cleaning up after the dog does become more difficult in the wintertime. The snow, the cold, as well as the human tendency to rationalize our behavior, result in a higher percentage of missed or shrugged-off bowel bombs. My favorite line is, "It will disappear with the snow." But, as we all know deep down, it doesn't disappear!
No, it's not like the movie Envy in which Jack Black portrays a man who invents a spray that magically makes poop vanish; all the snow does is preserve it. This sets the stage for a fecal fiasco come early spring when winter's treasures are revealed, posing a serious health risk to ourselves and our dogs.
I remember a couple of years ago, I was doing a training session in a neighborhood in town. I had to call off the training because of the amount of dog waste that was littering the edges of the sidewalk and flowing with the melt. I refuse to work with a dog in that environment.
Meanwhile, it being mid-afternoon, kids were filing down the street, heading home from school. They were doing what kids do with their spring fever energy: chasing one another, running and splashing through puddles, giggling with joy! I must admit, it gave me the willies.
I don't want to lay a heavy guilt trip on anyone, but if you are reading this and know that you've been guilty of leaving your dog's waste layered into the snow in a public area, it's not too late to retrain yourself to be a conscientious "canine's good citizen."
Just get a handful of plastic bags, stick 'em in the pocket of every coat, set some next to the back door, or tie a few onto the end of the leash. Remembering bags is more than half the battle!
For night walks, a pocket flashlight can be helpful.
If you have a child who is supporting the family's dog care, then teach him or her about the importance of cleaning up, and set a good example.
Also, if misbehavior is interfering with clean-up, consider training your dog to a sit/wait so that you can pick up safely and without interruption.
If you do find yourself out there without bags and your dog does the deed, well, don't just pretend it didn't happen. Make a mental note of the spot, and use it as an opportunity to extend your dog's walk and swing back home to get some bags.
I know it's slippery, sloshy, blustery or bitterly cold at times, and none of us are perfect. But just remember, those spring crocuses will look a lot prettier without the added fertilizer!
John Spieser is a professional dog trainer and owner of Dogheart. He can be reached at john@doghearta2.com.