Posted on
Fri, Apr 29, 2011 : 10:12 a.m.
Humane Society offers tips to help orphaned wildlife
By Deb Kern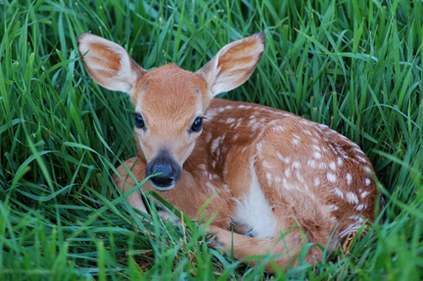 istockphotography image courtesy of Lisa DeMore
It's spring in
Michigan
, and that means animals that have been hibernating are now out foraging for food. It's also a time that the public starts seeing offspring and
newborns
of many different furry species near their homes.
One of the most common questions asked to the Humane Society of Huron Valley (HSHV) at this time of the year is, "What do I do if I see injured or orphaned wildlife?"
Each year HSHV receives more than 1,200 calls from the public about what to do with wildlife in their yards. Take time to read the information below and check out the links to get specific information from the experts. These tips will clear up common myths and help you make the best decision for the wildlife you come across.

First of all, if you did not know, HSHV is on-call in Washtenaw County only, 24-hours a day, to help injured or sick companion animals as well as wildlife. HSHV does not pick up stray dogs or cats or nuisance wildlife, and we do not accept wildlife for euthanasia. We also do not accept feral cats for euthanasia.
If you have a stray dog or cat in your yard and you can't locate the owners, you must either call the police department or animal control in your area. Or, if you can safely bring the animal to HSHV yourself, we will have you fill out a found report.
Now let's take a look at some of the myths you may have heard about wildlife babies. The big one is that wildlife parents will abandon their young if a human touches it — that is false. If you can place a baby bird or squirrel back in a nest, please do so. We do recommend that you wear gloves whenever you are touching wildlife to protect yourself and the animals.
Deer
Fawns are often seen lying by themselves, but mother deer is not far away. Does will stay a few yards away from their offspring on purpose. Unless you see clear signs that there is a problem, leave the baby deer alone and stay away from the area. The doe comes back to her offspring as she needs to and will eventually move her fawn when the baby is able to follow her. This is also true from many other animal species. Leave babies alone and do not move them. To find out more about fawns, please visit the Friends of Wildlife website.
Rabbits
Rabbits have newborns from March through October. They build their nests in open spaces and are often found in your yards. Again, the mom will leave the nest unattended a good portion of the day, please do not remove the bunnies. Before you begin to mow your lawn, we recommend do a walk around. If your foot sinks a little, it could be a rabbit's nest. If you do find one, please mark the area with a stick, and, when you mow, place a basket over the area. Please remember to remove it after you are done. For more information visit Help4Wildlife.
Birds
Many people come across baby birds in the springtime. Remember that it's OK to touch a baby bird to place it back in its nest, but you must make sure you know where the baby belongs. The Bird Center of Washtenaw County has very good information on what to look for and has instructions to proceed.
HSHV works with many wildlife and bird rehabilitators to help injured animals. Please contact these organizations for answers about specific species, but if you see an injured or sick animal please call HSHV first at (734) 661-3512.
The Humane Society of Huron Valley is an independent 501(c)(3) nonprofit organization serving all of Washtenaw County, Canton, and Plymouth, and relies solely on donations from businesses and individuals to support our community programs. The mission of HSHV is to promote responsible and compassionate care of all animals in our community.
For more information, call 734-662-5585 or visit www.hshv.org.
Deborah Kern is the marketing director at the Humane Society of Huron Valley and can be reached at 734-661-3527 or deb@hshv.org.