Posted on
Thu, Sep 27, 2012 : noon
Grassroots effort underway to bring awareness to the plight of retired K-9s, including Ann Arbor's own Czar
By Ann Arbor Animal Hospital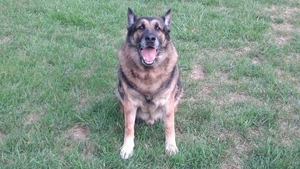 Photo by Ann Arbor Animal Hospital
The
Ann Arbor Animal Hospital
has provided veterinary services for several of the AAPD's K-9 dogs along with
Metro Airport's K-9 dogs
.
This past May, one of the AAPD dogs the hospital cared for, "Czar," was featured in an article posted on AnnArbor.com after he was retired. During a subsequent staff meeting at our hospital, one of the hospital's veterinarians asked what could be done to help "Czar" with veterinary expenses associated with his care after retirement? So, we started to look into what organizations were available to assist retired police K-9's.
What we discovered was that there were very few organizations that supported this very unique population of dogs. Moreover, we also learned that very few law enforcement agencies provide funding for retired K-9s because they were classified as "equipment". As a result, in most cases handlers would adopt their former "partner" as a personal pet and, therefore, be responsible for all expenses associated with their care.
Through researching organizations who might help, we learned that one of the only, if not the only, national organization designed to fill this void is the National K-9 Working Dog, Inc., also known as NK-9. While getting to know NK-9, we also learned that they were in the midst of trying to get a bill introduced in Washington, D.C. to provide funding for retired police K-9 dogs. Good news for retried K-9s like "Czar". The bill is called the "Police K-9 Bill of Rights".
The Ann Arbor Animal Hospital would like the public to know more about the plight of retired police K-9s and NK-9s efforts. We would also like to be very clear that everyone in law enforcement knows the value of their K-9 officers and wants to see them cared for after retirement due to age or injury. This post is not an indictment toward any one individual or agency but, rather, an attempt to raise awareness that all citizens benefit from these dogs while members of a department and, therefore, should work together to care for them in retirement.
What our post is intended to do is to ask readers to please join a grassroots effort to motivate our elected legislators in Lansing and Washington to support legislation designed to address this unmet need.
What follows is a press release from NK-9 and details of what the Ann Arbor Animal Hospital is doing from a grass roots perspective hoping others will join us in this worthy cause.
Press release from NK-9:
The National K-9 Working Dog announced the creation of the "Police K-9 Bill of Rights" to support our heroes after they have been retired due to injury or age in their final years.
Endorsed by Maryland Senator Richard Colburn and Delegates Adelaide C Eckardt and Jeannie Haddaway Riccio, they have forwarded the "Police K-9 Bill of Rights" to U.S. Senators Barbara Mikulski and Ben Cardin for pending action.
The "Police K-9 Bill of Rights" is an extension of the work of The National K-9 Working Dog, Inc. (NK9WD) on a larger scale. It provides for medical benefits, veterinary care, prescription and other needs to ensure the K-9's well-being in retirement, while removing this enormous burden off the shoulders of their handler.
While on active duty, a K-9 is considered an officer and attacking a police K-9 results in the same punishment as attacking a human officer. However, when it comes time to retire the K-9 from the law enforcement force, whether it be for medical, age, injury or other reasons, that same K-9 is considered a piece of equipment and as such, has no rights to department funds for his upkeep.
If the current handler/partner is unable to adopt the dog and assume all of its medical expenses, that dog must be euthanized for liability reasons. A tactical dog cannot currently be adopted by a third party.
The NK9WD has been paying medical benefits on behalf of retired K-9s whose handlers have been struggling with the financial burden of these costs, just to prevent these heroes and faithful companions from being put to an untimely death.
This "Police K-9 Bill of Rights" will provide for ALL retired police K-9s through the results of their own work. By using a mere 2 percent of only the cash confiscated during police search and seizures, we can provide for every retired police K-9 in America without taking away from any law enforcement budget or requiring any additional government funds.
It isn't fair that the burden of care fall on the shoulders of one officer when his loyal companion has faithfully served it's entire community. Every law enforcement officer we have spoken to is in favor of this "Police K-9 Bill of Rights." Please help spread the word and get our elected officials to correct this oversight.
For more information or to download a copy of the proposed "Police K-9 Bill of Rights" to send to your local congressional representative, visit the National K-9 Working Dog website, their Facebook page or by contacting NK-9's president, Jay Meranchik, at 954-788-5333.
Local efforts:
On a local level, the Ann Arbor Animal Hospital contacted our state's two Senators and 15 Representatives residing in Washington D.C. asking that they support the bill referenced in NK-9's press release. To gain additional support, we also contacted our 38 Senators and 110 Representatives in Lansing asking that they please reach out to the state's 17 legislators in Washington also asking for their support with the aforementioned bill. Hopefully, some of those reading this post will support our efforts by contacting legislators at both the state and federal level.
To date, there has been a wide range of support from law enforcement, legislators from the state and clients and vendors associated with the Ann Arbor Animal Hospital. For more information on ways you can support this effort, visit the Ann Arbor Animal Hospital's website or NK-9's website. Finally, you can also contact the Ann Arbor Animal Hospital's director, David Caddell, at 734-662-4474 or by email at dcaddell@AnnArborAnimalHospital.com.
In closing, whether they have two legs or four, we would like to thank all of our first responders who put themselves in harms way on a daily basis to protect us and keep us safe… thank you!
David Caddell is the hospital director of the Ann Arbor Animal Hospital, a locally owned and operated Companion Animal Hospital. David can be reached at 734-662-4474 or dcaddell@AnnArborAnimalHospital.com.