Posted on
Fri, Oct 5, 2012 : 10:30 a.m.
Chicken jerky treats for dogs sold by Sam's Club being recalled due to Salmonella
By Lorrie Shaw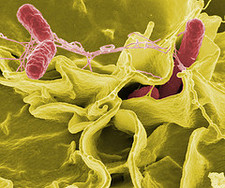 According to the Food and Drug Administration, Kasel Associated Industries of Denver is recalling their Nature's Deli Chicken Jerky Dog Treats because of possible salmonella health risk.
The product was distributed to Colorado, Iowa, Idaho, Illinois, Kansas, Missouri, Montana, Nebraska, Oklahoma, South Dakota, Utah and Wyoming through Sam's Club stores.
The product was distributed in a clear plastic bags, and bear the Nature's Deli logo. 2.5-pound bags are affected, and are marked with UPC bar code 647263800208. Lot number BEST BY 091913 DEN are included in the recall.
This is the second recall related to Kasel. In late September, bully sticks produced by the company and sold by Target were recalled after testing positive for the pathogen.
Salmonella, also referred to as salmonellosis, causes digestive problems, and dogs will typically present with fever, diarrhea, vomiting and weakness. Other symptoms can occur.
Salmonella can affect other animals — not just the dogs who consume the treats. There is risk to humans from handling contaminated pet products. People handling dry pet food and/or treats can become infected with salmonella, especially if they have not thoroughly washed their hands after having contact with the treats or any surfaces exposed to any contaminated product.
The product can be returned to the store where it was purchased for a full refund. Consumers with questions may contact the company at 1-800-218-4417 Monday - Friday from 7 a.m. to 5 p.m. (MDT).
You can count on AnnArbor.com to have up-to-date information on pet product related recalls available. Click here to search our archives of previous recalls.
Lorrie Shaw leads the pets section for AnnArbor.com and owner of Professional Pet Sitting. Shoot her an email, contact her at 734-904-7279 or follow her adventures on Twitter.