pets:

Tips for keeping your pets safe during Halloween

Posted on Wed, Oct 13, 2010 : 9:32 a.m.
For weeks, aisles have been lined with Halloween candy, decorations, costumes and the like. It's a fun time of year and in most households, things are looking and feeling a bit more festive. Pets, with their natural curiosity, are attracted to all things Halloween and at times it can get them into trouble. With a few things in mind, you can keep them safe and keep the fun going this time of year.
It's important to remember that the things that we humans view as fun can be especially frightening to pets. Costumes, faces painted with make-up and life-sized decorations can startle pets and cause them to behave unpredictably. Try to introduce things like this slowly, gauging their reaction.
Additionally, the days preceding and following Halloween yield pranks - and some not-so-playful. In fact, they can be cruel, particularly towards pets, and especially black cats. Don't leave pets outside and unattended during this period.
One of the most common activities, carving pumpkins, is a long-held tradition for adults and kids alike. Keep jack-o-lanterns lit with candles away from all pets.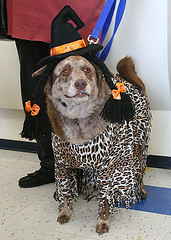 Photo by Flickr user plasticrevolver
Strings of lights are popular these days to indoor and outdoor displays during Halloween. Be sure to always keep cords and wires bundled and out of reach - or use a deterrent. Watch for decorative plastic pieces that cover the lights. These can look especially inviting to pets, much like their chew toys. Artificial spiders and spiderwebs are enticing, too. Consider them carefully before using.
With oodles of trick-or-treaters ringing your doorbell, it can be a difficult time for some pets to manage. The noise, the costumes and little ones can be disconcerting for pets. Avoid problems like anxiety and excessive barking by giving your pet a safe, cordoned-off area to stay in during this time. Try a spare room with white noise or a radio playing to buffer the sound at the door. (Cats can easily slip out of an open door in these situations, too!)
Does your pet like the activity that Halloween brings? Bandanas are a suitable, simple way to have a pet look festive. For the truly adventuresome, it's fun for pets to dress up in made-for-them costumes. But in doing so, be sure that they fit properly, your pet can breathe in them and movement isn't impeded. Also, give the costume a trial run before the festivities begin to ensure your pet really feels comfortable, and there is no risk of allergy. And remember, no small pieces that could be pulled off and choked on. Pets are much like small kids in this way.
Regardless of where your pets will be hanging out this Halloween, be sure they are wearing a secure collar with an ID tag, and if at all possible, consider what a powerful tool microchipping is in bringing your pets home in case they escape.
Yummy Halloween candy is particularly inviting to pets. Take special care when it's around to keep it locked up and away from pets, in an upper cupboard with a door on it. Dogs and cats are very crafty and can reach countertops, tables and stovetops. Chocolate is toxic to animals, as it contains a component called theobromine. Xylitol, a sweetener that you'll find in candy and gum, is toxic to dogs. Use special care with packs of gum in your purse or in your car's console. Call your veterinarian or the ASPCA Animal Poison Control Center at (888) 426-4435 if you suspect your pet has ingested a harmful substance.
Keep those candy wrappers away from pets! Foil and cellophane can be fun for pets to play with, but can pose serious tummy issues, even a blockage.
With a bit of planning and care, your whole family can enjoy the fun that this time of year has to offer - and have fun, lasting memories for years to come.