Posted on
Mon, Oct 10, 2011 : 1:25 p.m.
Kids must be taught the right way to approach an unfamiliar dog for the first time
By Julia Levitt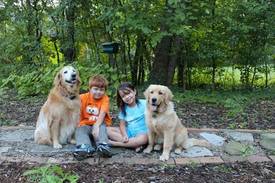 Photo courtesy of Chris Burke
Kids and dogs — a winning combo right? Not always.
When a I was a kid, in the Dark Ages, very few dogs were leashed. They seemed to stay in our neighborhood and follow us as we played .
Today's dogs seem to have rules, regulations and restraints. Today dogs are no longer welcome at many parks. Cities enact leash laws. The world for dogs is shrinking — shrinking in the sense that they have less freedom to be dogs.
The other side of this is that dogs need to live congenially in our society, just as we have to follow the rules. Don't drive when we see a red light, don't run over a pedestrian in a cross walk — we learn to live within these boundaries. Often times these laws and rules are designed to make us safe.
When kids and dogs are mixed together, we don't have written rules. Often when I am walking my dogs, a child will run up to me and ask to pet my dog. This translates to coming up to a dog, putting an outstretched hand in the dog's face and then proceed to enthusiastically hug my dog.
Observe a few things. In the animal kingdom a greeting is not done face to face. Predators such as dogs greet members of their pack in a respectful — head lowered submissive fashion — eyes lowered. Dogs often circle each other giving the traditional greeting of butt sniffing. In nature a wild dog does not enthusiastically run up to a another dog and ask to be friends.
This human-designed way of inappropriate greeting is what our domestic dogs must follow — its one of the unwritten rules to live in human society. A child gets in to a dog's space, and the dog is required to act in a friendly, submissive and kind fashion — no jumping, no biting, no growling.
Does this happen among other dogs? The respectful dog waits until another dog gives the signal they are interested in being friendly or not. The child needs to behave like a respectful dog.
"When you are reading dogs," says author and dog trainer Brenda Aloff…"remember that the dog does not have to be falling all over himself and you with a wagging tail and wiggling body to show friendliness. Dogs who are relaxed and quiet are being friendly and are comfortable. Sometimes people look at a dog who is neutral — so to speak — and think that the dog is being bored and unaware of what is going on around him. This could not be less true. Dogs showing neutrality are confident and happy to share their space with others — but are still very aware of who and what they are doing."
What is the best initial greeting for a child meeting a dog for the first time? No touch. No talk. No eye contact.
Why? When a child greets a new dog, the excitement from the child bubbles over to the dog. The high-pitched squeaking sounds the child makes are the same sounds the dog's litter mates produce.
Voila! The dog has now equated a child to a litter mate, and litter mates are equal in play. When child greets a new dog, we would like the child — through body language — to get respect from the new dog.
Give the dog a chance to greet you, and do not get in the dog's space. This is like meeting a new person and trespassing the invisible boundary of his or her comfort zone.
Next, a child should never run up to a strange dog. Always ask the person walking the dog if it is okay to meet their dog. If the person says no, it is the dog owner's prerogative. He or she knows the dog best.
Let's take some advice from children on approaching a strange dog. Andre and Calvin Millan have learned a thing or two from their father's methods. Here's what they say:
Never approach a strange dog.
Never pet a dog — no matter how cute — unless the owner or responsible adult tells you it's okay.
Don't play with a dog that is overexcited. Playful energy is good — hyper energy is bad.
Don't run away from a growling dog — it will only chase after you. Stay calm, hold your ground, don't look at the dog, and wait for help.
Lastly, practice "no touch, no talk, no eye contact" when you first meet a dog. If the dog licks you, it likes you.
In our next blog entry, we'll look at the following issues:
When is it appropriate for a child to have a dog?
What is the best kind of dog for your family?
Finally, what are the responsibilities of dog ownership?
Any constructive comments from you will also be used in my next blog. I look forward to hearing from you!
Julia Levitt is the founder of In Harmony Dog Training (www.inharmonydogtraining.com) in Ann Arbor. She can be reached at julia@inharmonydogtraining.com or at 734-645-4707. Julia provides individual training for dogs and their owners, and also conducts dog training classes at Ann Arbor Animal Hospital.