Posted on
Wed, Oct 24, 2012 : 6 a.m.
Do you have a surplus of pumpkin this season? Here are some dog-friendly ideas
By Lorrie Shaw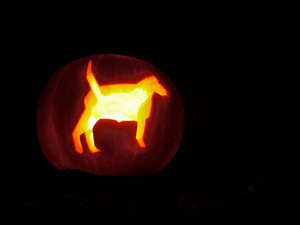 flickr photo by the Polon Team
This time of year, there seems to be no shortage of
pumpkin
, and that familiar orange squash can leave some people stumped for ways to use it.
The seeds are yummy for us humans, but the flesh can seem bland and leaves much to be desired for some beyond pies. It seems like a waste to toss it out — and it is — considering all of the recipes that you can use it in. If you have dogs, it's even better, because it's not only yummy to them, but healthful.
One of the best things besides the price of these yearly delights, is the fact that they are low in fat and are high in fiber — a boon to the canine species.
I often use cooked puréed plain pumpkin as a filling for our dogs' Kong toys (click here for more on that and other low fat ideas).
Also, at the suggestion of our vet, I add a little to our dogs' food as a way to boost the fiber content of their diet naturally to help them with maintaining healthy intestinal motility, something that senior dogs can find challenging at times.
Quite often, pumpkin is used to help address diarrhea or constipation, but the amount depends on the size of your pet, as does the cause of the problem, so please consult your veterinarian before addressing either problem in this way.
Pumpkin is a safe enhancement for your healthy pet's food anytime really, so if you find that you have some leftover this fall, here's how to prepare and keep it:
Preheat the oven to 350 degrees.

Carefully cut the pumpkin into large wedges, then place them, skin side up, on a lightly oiled baking sheet. Bake about 90 minutes, or until fork tender.
When cool enough to handle, scoop the flesh out of the skin into a bowl, then mash it or give it a whirl it in your food processor. If the puree is a bit thin, give it a little time in a saucepan over medium heat until some of the moisture has evaporated.
After it has cooled, portion into freezer bags, containers or ice cube trays and freeze. The resulting puree can be defrosted by placing the frozen bag or container into a bowl of hot (but not boiling) water, or more quickly in the microwave (the smaller portions in the ice cube trays lend themselves to quick thawing).
Lorrie Shaw leads the pets section for AnnArbor.com and is owner of Professional Pet Sitting. Shoot her an email, contact her at 734-904-7279 or follow her adventures on Twitter.