Posted on
Fri, Feb 25, 2011 : 9:40 a.m.
Local dog wins 'Best Mutt in Show' contest on ABC's 'The View'
By Lorrie Shaw
Photo courtesy of Phyllis Perry
In November 2009, a dog believed to be a
Skye Terrier
/Wheaten mix was found wandering alone with no identification in Webster Township, plucked off the streets and taken to the
Humane Society of Huron Valley
. Within a short period of time, she was put up for adoption, and, within hours, was spied by
Phyllis Perry
of Ann Arbor, who was visiting the facility that day.
"She had her back to the door of the enclosure that she was in, and I made a kissing sound with my lips to get her attention," says Perry fondly, "and she immediately turned around to look at me. I knew right then that she was the right dog."
Sweetie Sue, as she came to be known after she was adopted by Perry — a writer and photographer — had a spark and warmth that had to be shared with others. By July 2010, the effervescent pooch passed the necessary tests to become registered with Therapy Dogs, Inc. and went to "work."
For about a year, Sweetie Sue has been a regular visitor — along with Perry as a Therapy Dog team — at Glacier Hills, spending time with the residents once a week. Additionally, the team has enjoyed time at Saline Evangelical Center and will be adding Silver Maples of Chelsea to the list.
Because of Sweetie Sue's mixed breed background — and her outgoing personality — Perry decided in January to enter her into the "Best Mutt In Show" competition on ABC's "The View." 2011 marked the event's third year.
Sweetie Sue was not a contest novice; In 2010, she placed second in the Humane Society's 2010 Celebrity Spokesdog contest.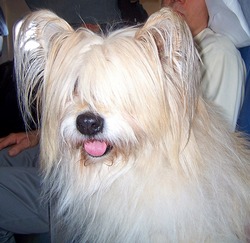 Photo courtesy of Phyllis Perry
Watch Sweetie Sue's judging segment with David Frei here.
The event was divided into two categories: Best Viewer's Mutt, which came from entries submitted by the show's viewers, and Best Adoptable Mutt. The latter category's entrants were from the North Shore Animal League and featured pooches that were available for adoption.
Westminster Kennel Club's own David Frei was on hand to judge the event.
Sweetie Sue took top dog honors in the Best Viewer's Mutt category. Dogs in both categories were judged based on physical soundness, temperament and cuteness.
Perry mused about the experience that she and Sweetie Sue had while in New York. Meeting other dog owners, Frei and the hosts of the weekday show, including guest host that day, actress Denise Richards, was especially memorable as the event highlighted such an important topic — adopting homeless pets.
Video footage of the winner's being announced can be seen by clicking here.
A stunning dog with a lush coat, Sweetie Sue really gets attention, and she really attracted a lot of it that day. Several people expressed an interest in adopting the lucky 8 year old.
"Whoopi Goldberg had to step up and tell a few people, 'This dog is not up for adoption!' It was flattering," remarked Perry.
Aside from being chosen as Best Viewer's Mutt, Perry says that one of the most gratifying things about the experience was hearing how much the residents at Glacier Hills back here in Michigan loved seeing Sweetie Sue not only be selected to compete, but to win.
Gail Pacurai, Life Enrichment Coordinator at the facility, got in touch with Perry, saying that all of the residents watched the show together, and that whooping and cheering hadn't been heard there quite like that before. In fact, there will be a party in honor of the accomplishment at Glacier Hills in early March.
The power that animals have to connect with humans — and to help connect humans with each other — has once again been illustrated.
Lorrie Shaw is lead pets blogger for AnnArbor.com and wrote "The bucket list for pets: What does your dog want to do before he dies?" She is a professional pet sitter and dog walker serving the Ann Arbor area. She invites you to follow her daily pet adventures on Twitter or contact her via email.