Posted on
Wed, Jul 14, 2010 : 5 p.m.
Local vet takes over Animal Rehabilitation Facility in Dexter; offers options for canine rehabilitation, pain management, conditioning
By Lorrie Shaw
Upon entering the unassuming building that houses Animal Rehabilitation Facility, I walked down a corridor, not knowing where to go. So I just followed the voices that I heard.
One particularly encouraging voice saying, "Great job ... keep it up!" Peeking in so as not to disturb, I saw an older, large breed dog inside an underwater treadmill, working his limbs enthusiastically. Veterinarian Mary Cardeccia, DVM and his owner stood outside the treadmill guiding and cheering him along.
After the trio emerged from the treadmill area, they gathered in the administrative area where I was waiting, as the happy-looking dog plopped on the floor while his owner and Cardeccia discussed his next appointment. After finishing up, the woman said, "Alright, let's go!" Although the dog - who is afflicted with a neurological disorder - struggled a bit to get up from the industrial-tiled floor, he did so without assistance fairly quickly. His owner commented that his effort, though a bit difficult to manage, has improved. Cardeccia smiled.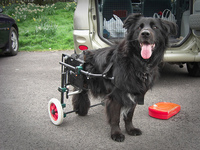 flickr photo courtesy of Mark Robinson
I was anxious to meet Cardeccia as in my business I've specialized in the care of older pets - primarily dogs, who experience
mobility
issues. Through the years veterinary medicine has evolved dramatically in the area of pain management and rehabilitation and I was eager to learn more about care options, different modalities of treatment and how they can improve the well-being of canines - apart from the use of traditional drugs.
Cardeccia, who took over the practice from Dr. Jan Masica recently, provides rehabilitation services for post-surgical canine patients, injury/lameness issues and geriatric/arthritic related problems. She also works with clients to sports fitness evaluations and consultations. Canine athletes also come in for conditioning, as well as dogs requiring conditioning for weight loss.
Each patient starts with a complete evaluation, which takes about 90 minutes to assess the dog's situation, literally top to bottom. Cardeccia's philosophy is that the patient is treated as a whole being - so each muscle group and each joint matter so balance can be achieved. The owners are a great resource of information in doing the evaluation, as they are the dog's advocate - so Cardeccia emphasizes the importance of the humans in the dog's life noting any wincing, limping or changes that have occurred.
Cardeccia has practiced veterinary medicine in this area after earning her DVM from Michigan State University in 1995.
Five years ago, she experienced a life-changing event. A close friend was in need of a liver transplant, and Cardeccia was to be the donor. (The surgery was successful.) To be sure that her body was in tip-top shape for the procedure, a holistic approach including nutrition was implemented. During that period, Cardeccia noticed that the way she felt was dramatically better - a true watershed moment for her.
From that point on, she decided to move from general practice to complementary veterinary medicine. She began studies that earned her certifications in veterinary acupuncture (CVA), food therapy (CVFT) - and a certification in canine rehabilitation therapy (CCRT) is pending. Cardeccia is also a Reiki practitioner, level II. In addition, she hopes to add chiropractic care into the practice.
ARF has four separate "treatment" areas: one room contains the aforementioned underwater treadmill (which can also be used dry); another houses an 11-by-16 heated pool that has a resistance current; and yet another spacious room is designed to conduct rehabilitation. The latter is filled with exercise balls of varying sizes (yes, used much like we humans use), bosu balls and things like two-wheel carts and Eddie's Wheels for dogs that do not have mobility in their rear limbs.
One last room that I toured was smaller and is used for treatments like Reiki, acupuncture, and Pulsed Signal Therapy. PST is used for joint, tendon and ligament issues.
In my time spent talking with Cardeccia, it was evident that this is her true calling. As she talked about her experience with her own dog, and some of the dogs that she treats that have diagnoses like Degenerative Myleopathy and arthritis, her sense of compassion shines through. Realizing there is no "one size fits all' treatment for situations like these - and that time constraints to follow through with in-house treatment - as well as cost, can make treatment difficult to attain for owners.
She stresses that communication between her clients and herself is vital, and that "there are always options." She can design a treatment plan that can be tailored to a patient's needs, and the owner's physical ability (yes, rehab many times requires the owner to physically participate in the activity) - as well as the owner's budget.
Her clear objective: to allow dogs to be their best, with as little pain as possible.
Animal Rehabilitation Facility is at 7275 Joy Road in Dexter. Mary Cardeccia can be reached at 734-417-4290.
Lorrie Shaw is owner of Professional Pet Sitting as well as a regular pets contributor on AnnArbor.com. She also blogs frequently on More Than Four Walls, and enjoys researching new modalities of pet wellness and behavior, as well as social issues related to pets. She can be reached via e-mail.