Posted on
Sun, Nov 13, 2011 : 8:10 a.m.
Local veterinarian shares military experience In Afghanistan
By Ann Arbor Animal Hospital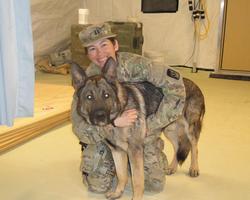 Photo by Dr. Lisa Walker
My name is Lisa Walker and I am an emergency room veterinarian at Ann Arbor Animal Hospital where I have worked for the past four years, dealing exclusively in small animals —that is to say, dogs and cats with an occasional small critter thrown into the mix.
I am also a veterinarian in the U.S. Army Reserves. I joke with my friends that joining the Army was my "midlife crisis," but in reality, I am truly grateful that my country has allowed me to serve not just our citizens but also the citizens of Afghanistan. With this being Veteran's Day weekend, I hoped to share my recent overseas experience in the unique role I played as a member of our armed forces and as a veterinarian.
With the war in Afghanistan now past its 10-year mark, we as Americans are hard pressed to find many among us that haven't been directly affected through someone we know — a family member, a loved one, a co-worker or a neighbor that has served overseas in one fashion or another.
Today's generation of American servicemen and women have had many unique "firsts" in supporting their nation. This includes participating in the longest war in our history, fighting with an "all volunteer" force, and in many cases, soldiers deploying multiple times. The days of battles fought over a line on a map have passed, giving way to a 360-degree/fourth-dimensional battlefield.
The new focus is not on conquest and battles, but on providing stability to unstable parts of the world and in this manner eliminating the conditions that favor terrorism and extremism. In Afghanistan, this means helping the local people to sustain themselves by providing training, support and development of agriculture, industry and animal husbandry. A catchphrase I heard regularly while in Afghanistan was "Empower the Afghans."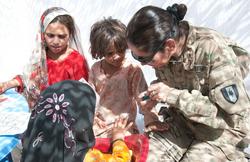 Photo by Dr. Lisa Walker
I deployed last winter to southern Afghanistan, where I lived on a small base in the heart of Pashtun country, close to the prior Taliban capital city of Kandahar.
I was in country when the Koran was burned in Florida and the people rioted in the city, miles from where I was. I was in country when Osama bin Laden was killed — and when Seal Team 6 went down. I was miles away when hundreds of Taliban prisoners' escaped through an underground tunnel from Kandahar. I hid in bunkers when we had incoming mortars, and I played soccer with the Afghan interpreters, the only woman playing in a field of shaggy, bearded men.

I often get asked what the Army does with veterinarians, especially in a combat zone.
The Army has a saying that, for every soldier in combat, it takes at least 20 others to support him or her. The Veterinary Team serves in one of these supportive roles.
My primary responsibilities were to care for the Military and Contract Working Dogs (MWDs and CWDs). These canine warriors are the amazing dogs that are trained to work with their handlers, finding explosives and drugs, protecting the safety and security of our troops, our Afghan allies and our civilians overseas. And although it's not in their official job description, without question, these canine warriors give strength and comfort to the human troops deployed so far away from home.
The other job my team and I were tasked with was protecting the human food safety and security. We oversaw many aspects of procurement, transportation, storage and provision of food eaten by our troops.
Other veterinarian's in Afghanistan work exclusively in Civil Affairs. These veterinarians are our ambassadors to the common people. They are subject matter experts who help research, advise and guide the country in areas of agriculture and production animal advancement.
For example, Afghanistan currently does not produce enough food to feed its own people. Veterinarians are involved in efforts to develop existing technologies and expand into new areas to include row crop farming, poultry industry, aquaculture and fisheries.
I have returned home to the U.S. with a newfound appreciation of the freedoms and luxuries we have in this country. I think, in this and future Veteran's Days to come, I will always reflect on my experiences while in Afghanistan, remembering the many faces of the people I met there, both Afghan and American. It has been an honor to serve.
Lisa Walker is an emergency room veterinarian at the Ann Arbor Animal Hospital, a locally owned and operated small animal veterinary hospital. Lisa can be contacted via email.