Posted on
Mon, Aug 22, 2011 : 12:45 p.m.
The chance of your pets becoming lost is minimized with these easy tips
By Lorrie Shaw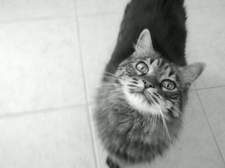 Lorrie Shaw | Contributor
A very worried-looking woman approached me, leash in hand as I was walking a client's dog recently.
"Have you seen a dog wandering around?" she asked. "Tye is a Lab mix, about 70 pounds. He went missing after he was spooked by thunder from that storm that was coming last night when we were out for a walk."
After chatting for a couple of minutes, I learned more about what had led to the situation, as well as some disheartening details that would make it more difficult to get him home safely.
I'll use the predicament that Tye was in to illustrate common problems that are seen when a pet becomes separated from their humans, as well as simple, inexpensive measures to help reunite companion animals and their humans:
Tye was not microchipped. Pets cannot tell an unfamiliar human where they live, and a microchip can give a facility that has a microchip reader, like the Humane Society or a vet's office, the specifc information they need to help reunite pet and owner.
The missing pooch did not have identification tags on his collar. This is a must-have for any dog and cat. I run across a handful of dogs each month when I am dog walking, that have escaped their owners' watch and are running loose. A few have clearly marked identification tags that contain basic information like the pet's name, their human's name, street address and telephone number. Some, even indicate any health problems or medication needs. (I suggest that my pet sitting clients have a tag made up with my contact information on it while they are away.)
ID tags, along with the dog license tag and rabies tag should always be attached to a pet's collar. For dogs, I recommend using nylon collars that have a side squeeze buckle for easy fastening and unfastening. Click here for more on cat collars.
It's as easy as a telephone call to get a pet reunited with its human if they have identification — but if not, it really complicates matters. Consider taking a few minutes to get a tag made at a local pet store for a small fee.
The retractable leash that Tye's human was using snapped when the scared pooch bolted upon hearing the sound of thunder. Retractable leashes certainly have their place, by as a rule, I am not a fan of them, espcially for larger breed dogs, or even those who are smaller and are really strong. Retractables do have a tendency to snap easily — regardless of the manufacturer.
For that reason, I do not use them. I recommend the use of a harness and traditional leash. Whether you use leather, fabric or nylon, check those leashes, collars and harnesses often for wear, stretching or weakening. (I provide any dog that is in my care an Easy Walk body harness to wear while we are outdoors, and I use a nylon leash that is comfortable to hold, and is super strong and reliable.)
Additional food for thought
Train your pooch to not exit the door unless you say it's okay. It can be hard for some dogs to contain their excitement when the door opens to go outside. Amy Samida offers simple tips to help teach your dog to refrain from bolting outside. Click here to check out her recommendations.

Have current photos of your pets on hand, and be sure to take several of them doing different things. The old adage that a picture says a thousand words couldn't be more true than in a case where a pet is missing. Click here for more on that.
Most pet owners can relate to the phrase "things happen" — pets do wander off or get lost, even with responsible pet owners. The Huron Valley Humane Society offers an online tool to help owners get the word out that their furry friends are missing, as well as providing an avenue for those who have found pets to help reunite them with their families.
The Lost and Found page on the HSHV website is accessable 24/7, and is complete with pictures. Click here to access the page.
The AnnArbor.com pets section will post a piece each week, complete with a link to the Lost and Found webpage.
Lorrie Shaw is lead pets blogger for AnnArbor.com. Connect with her on Google+ or e-mail her directly.