Meet Madeline - AnnArbor.com's Pet of the Week
Posted on Mon, Mar 15, 2010 : 11:07 a.m.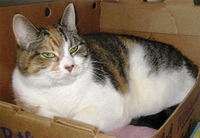 Madeline is a darling, 12-year-old, senior, Calico cat. Sadly, her owner passed away. Madeline was left alone in the house for several weeks before being brought to the Humane Society of Huron Valley to find a new home. Remarkably, Madeline has adjusted well in the shelter. All of the volunteer cat comforters at HSHV remark what an affection and sweet cat Madeline is. She is also quite the talker, and will say hello to anyway who stops by for a visit.

Madeline sometimes looks a bit grumpish, but that's not at all a reflection of her personality. She loves attention, loves being petted, and she has super-soft fur. Madeline is looking for a quiet home - one with no dogs and no young kids. We think children over the age of 12 who have had cats before would be fine for Madeline.

Madeline might like to live in a home with another cat just as long as that cat was calm and easy-going like Madeline is. Visit Madeline in our Up Town Cats room at the Humane Society of Huron Valley.

The Humane Society of Huron Valley is open daily from noon to 6:00 pm for adoptions. You can always visit our Web site to see all the adoptable pets in our care.

To find out more about Madeline, call 734-662-5585, or visit HSHV daily from noon to 6 pm.