Meet Séamus - AnnArbor.com's Pet of the Week
Posted on Mon, Jun 14, 2010 : 11:35 a.m.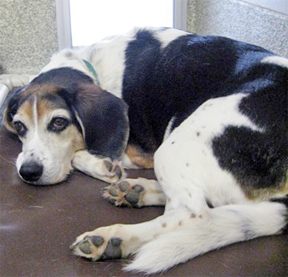 Photo by Ann Edwards, HSHV staff member

This week's AnnArbor.com "Pet-of-the Week" is a senior beagle named Séamus. Séamus' owner had to relocate and could not take his dog along. Séamus has been sad about losing his home but we know his "Fighting Irish" beagle spirit will help him bounce back to his tail waggin' former self. When people visit Séamus he sparks right up, so once he gets a permanent caring home, we know he'll be in tip-top beagle form.

Séamus enjoys nice long walks, playing fetch, smelling the flowers, stopping off at the local pub for a snort of cold water with his people, and lounging on the couch watching "World Cup" Soccer matches.

Séamus is 8 years old but has a lot of playful energy left and is looking forward to a new home - one with a fenced-in yard, and nice fresh grass to roll around on would be perfect for him. He is house-trained, and gets along fine with older kids (kids 12 and older would be best).

Séamus is a typical beagle and will follow his nose when he sniffs something interesting so a fenced-in yard would be perfect for him. Séamus is OK with other dogs just as long as they don't sniff in too personal a manner. You know what we mean.

Please come to the DogTown wing at the Humane Society of Huron Valley and meet Séamus. HSHV is open daily from noon to 6 p.m. for adoptions. Visit www.hshv.org to see more information about Séamus and all the other wonderful pets up for adoption.

Please make adoption your first option!