Pets:

Meet the Ann Arbor.com Adoptable pet of the week: Bella

Posted on Tue, Jun 19, 2012 : 6 a.m.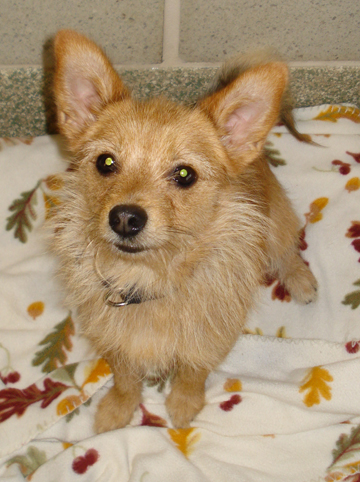 This adorable 6-year-old dog was left in our parking lot with a piece of tape strapped around her collar indicating that her name was Bella. She found her way to our door where she sat until one of our staff members saw her and brought her safely inside.
This is a frequent occurrence at the Humane Society of Huron Valley, but every time it happens we always wonder why people stop short of doing the right thing by their pet and won't simply come inside and talk to us.
A homeless pet with an owner relinquish profile finds a home much faster. Your information on what your pet likes and dislikes, what they act like in your home, and what medical history they have is critical to making sure they have a successful adoption. It does not take long to give us this information.
Our staff will never judge you for having to relinquish your pet. There are so many reasons that people become unable to care for an animal, and all we ask is that you work with us. We are here to help you. Yes, there are times we get full and you may be asked to wait a couple of days, but by calling us and talking about your situation, we can help to make the transition less stressful for you and your pet. Please visit our website for more information on surrendering your pet to HSHV.
Bella is a nice dog. She is affectionate, smart and eager to find a caring home. We think she might do best with a family where children are over the age of 12. Our veterinarians believe Bella is about 6 years old and seems to be in very good health. If you can give a small dog a good home, please come and visit Bella. She is ready for adoption now.
Every pet available for adoption is spayed/neutered, up-to-date on their vaccinations, medically and behaviorally evaluated, and they have a microchip ID all included in their low adoption fee. Please make adoption your first option.
The Humane Society of Huron Valley, located in Ann Arbor, was awarded the "Best Large Animal Shelter in Michigan" by the Michigan Pet Fund Alliance, for the second time in a row this year, for saving the most lives. HSHV is an independent 501(c)(3) nonprofit organization and relies solely on donations from businesses and individuals to support our community programs.
HSHV is not affiliated with the Michigan Humane Society or any other humane organization. The mission of HSHV is to promote responsible and compassionate care of all animals in our community.